>
Dive Resorts
>
Indonesia
>
Bali
>
Tourist Activities
Things to Do in Bali ... Other Than Diving
Tourist Activities
The waters of Bali provide outstanding scuba opportunities including thrilling drift dives, exciting wreck diving and the possibility of encounters with fascinating marine life such as sunfish and manta rays. But aside from the diving in Bali, this island paradise offers a wide range of other activities. This is a look at what else there is to do, in the areas you are likely to visit and in general ...
Bali's Main Attractions
Why not add a few extra days on to your Bali scuba diving holiday to visit some of the main attractions on the island? ...
Renowned for its influential and enterprising artwork and architecture, traditional music and dance, theatre and elaborate religious festivals and ceremonies, the Balinese culture is a lively and dynamic force that is constantly fusing the old and traditional with the new and innovative.
The local religion is Agama Hindu-Dharma and centres on the 5 ritualistic pillars of gods and ancestors, demons, the stages of human growth, the dead, and the consecration of priests. Essential to these rituals are offerings of food, flowers, and palm-leaf figures. The offerings are consecrated by priests with holy water, incense and sacred mantra incantations. The belief is of one god, but in many forms including the Hindu Trinity of Brahma, Wisnu and Siwa, but also deified kings, saints, ancestors and elemental spirits.
The Balinese New Year is known as Nyepi Day and it is one of the most important days in their calendar. The local people are very religious and life is full of ritual. Police and security are on hand to make sure that everyone abides by the rules! Note that on Nyepi day, the airport is closed, cars and even people are not allowed on the streets, and at night, lights must be kept to a minimum. The rules apply to tourists also, although some activity is allowed in hotels. The date changes each year as the Balinese follow a traditional lunar new year.
Balinese Dancing Theatre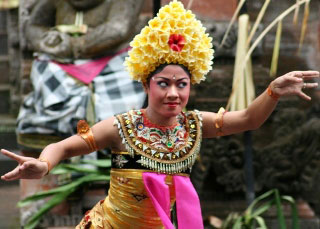 Dance and drama are the very essence of Balinese culture and closely linked to religion. Theatre and dance are also intimately linked and in the local language the same word is used for both. Balinese dance performances are very dramatic and tell a story, involving a combination of dancing and acting that draws upon stories that include Indian and Indonesian epics.
Traditionally the dances are performed during temple festivals and holy ceremonies and they are very much a part of the religion. However, tourists can see dance performances in many areas of Bali including in hotels.
The 3 most popular and well-know types of dance are:
Barong - this is basically a story about good over evil. Barong is an actual character in Bali mythology; he is the king of the good spirits, a protector and enemy of Rangda. Often represented by a lion, traditional performances depict his struggle against Rangda to restore balance. This dramatic art is sometimes used to strengthen a community's resistance to harmful forces and improve health and prosperity.
Legong is a refined and feminine dance characterised by intricate hand gestures, foot work and facial expressions. Traditionally it is the dance of divine nymphs. Girls start training in this dance art form at the age of 5.
The Kecak is an unusual Balinese dance as there is no musical accompaniment. It is performed by a group of 150 or more men wearing only checked dhotis percussively chanting "cak" while throwing their arms up in the air. The story depicts a battle from the Hindu epic Ramayana, where the monkey-God helps Prince Rama fight the evil King Ravana, Also known as the Ramayana Monkey chant, Kecak has its roots in Sanghyang which is a trance-inducing exorcism dance.
Ubud
The artistically rich town of Ubud is known as the cultural centre of Bali and is one of its most popular tourist destinations. Balinese culture is considered one of the most refined in the world, and Ubud is the perfect place to discover it.
There are numerous art galleries and some really attractive modern art works at Ubud. Art lovers will be impressed with the stunning permanent collection of Balinese artworks at the famous Ubud's famous Museum 'Purl Lukisan'. Neka Museum is also worth a visit and has some beautiful paintings.
There are plenty of artistic workshops, cooking schools and dance programmes on offer and some of the islands best dance performances take place here. You can also find a variety of 'batiks' - traditional Indonesian paintings on cloth, for sale in Ubud and you can even watch them being made.
Besakih Temple
Perched 1,000 metres high on the slopes of Mount Agung, the most revered mountain in Bali, Pura Besakih is the biggest and holiest of all the Balinese temples. There are literally thousands of temples to discover on this wondrous island, but Pura Besakih, commonly known as the "Mother Temple of Bali", is not to be missed. The mountain top setting gives it an almost mystical quality and the stunning sight of the beautifully-designed temple against the mountain backdrop, is reason enough to visit Pura Besakih.
Over a thousand years old, Pura Besakih temple features 3 main temples dedicated to the Hindu Trinity of Shiva, Brahma and Vishnu. These are surrounded by about 30 separate temples and shrines. This sacred pilgrimage site is the most popular in Bali and the locals consider a visit to be very special.
Uluwatu Temple
This is arguably Bali's most spectacular temple located high on a cliff top 80 metres above the waves of the Indian Ocean at the edge of a plateau. The famous Pura Luhur Uluwatu temple is dedicated to the spirits of the sea and is a beautifully designed, architectural wonder in black coral rock. There are spectacular views here and it is a popular place with tourists to watch the sunset.
Tanah Lot
This temple is perched on a large offshore island rock that was formed by the gradual erosion of the tide over thousands of years. Located in Tabanan on the southwest coast, it is one of the 7 sea temples around the Bali coast and is dedicated to the guardian spirits of the sea.
Tanah Lot is claimed to be founded by the 15th century priest Nirartha, one of the last priests to come to Bali from Java, so the temple has significant Hindu influence. The temple itself is not open to visitors, but there are magnificent views from several points nearby. It is especially popular at sunset when people gather on the terraces nearby to watch the changing colours of the sky behind the temple.
Terraced Rice Paddies
Bali's emerald-green rice terraces are the most beautiful and photogenic agricultural complexes in the world. The rice terraces date back 2,000 years, when they were carved into the steep hill sides by locals, using very basic hand tools. These impressive paddies have been cared for by generation after generation of farmers and they remain a gorgeous sight.
The river gorge near Tegallalang village, in central Bali, is considered to have the most beautiful terraced rice paddies on the island and is well worth a visit for stunning photographs. Other similar sites can be found in the Ubud area, around Papuan, Tabanan and Jatiluwih.
Sangeh Monkey Forest
The Monkey Forest, or Bukit Sari, in the village of Sangeh is a 6 hectare forest complex and protected area full of giant nutmeg trees. As the name suggests its main attractions are the hundreds of monkeys that inhabit both the trees and the 17th Century temple, Pura Bukit Sari, found in the heart of the forest.
Monkeys have a special status in Hindu Balinese religion and are respected by the local population. Visitors are not allowed into the temple but it is possible to see the huge Garuda statue, stone-carved reliefs and meru.
Lakes
There are 4 lakes in Bali, all up on the highlands:
Lake Batur
Lake Batur was the original crater of the active volcano Gunung Batur before the mountain rose to its current peak just next to the lake. You can enjoy the spectacular scenery of Lake Batur from Kintamani. There is a hot spring right by the lake where you can bathe. Across the lake lies the ancient village of Trunyan, where the Bali Aga people live and still maintain their centuries old traditions. Near the lake is Batur Temple, one of the 6 main Hindu temples in Bali.
Lake Bratan
Lake Bratan is located next to Mount Bratan and Mount Catur. It is the second largest lake in Bali. The important temple of Pura Ulun Danu stands on the western side of the lake, dedicated to the God of Prosperity, Sang Hyang Dewi Danu. The resort area of Bedugul offers excellent views of the lake and there are several water activities available.
Lake Buyan and Lake Tamblingan
Immediately to the northwest of Lake Bratan lie Lake Buyan and Lake Tamblingan, which used to be one lake until a landslide separated them at the beginning of the 19th century. The view at Tamblingan is breath-taking with the 1,860m high Lesong Mountain in the background. There are many historical temples here and, at an altitude of 1,000 metres above the sea level, the air is fresh and cool.
Volcanoes
Bali's mountains are a string of volcanoes that are mostly in the northern part of the island. The mountains form part of the chain of volcanoes that make up the 'Ring of Fire' that stretch from the Asian continent to Sumatra and Java. The most important ones are:
Mount Agung
This is Bali's tallest and most revered mountain at 3,142m. It is an active volcano with an enormous and very deep crater that occasionally vents out smoke and steam. The Mother Temple of Besakih is located on its slope. This volcano overlooks the resort diving village of Tulamben.
Mount Catur
Lake Bratan lies at the foot of this 2,096m high mountain. It stands side-by-side with Pohen Mountain. The popular Gitgit Waterfall can be found on the northern side of the peak.
Mount Pohen
On its slope you can find Bedugul Botanical Garden with a collection of native Indonesian plants.
Mount Batukaru
Batukaru at 2,276m is the island's second tallest mountain and located slightly south of Mount Pohen. On its edge sits Pura Luhur Batukaru, one of the 6 main Hindu temples in Bali.
Mount Batur
This is the islands most active volcano. It is 1,412m tall and has one of the biggest calderas in the world, measuring 13.8 x 10 km in size, with Lake Batur dominating the eastern half.
Mount Lesong
Is a dormant volcano just south of Lake Tamblingan. It stands at 1,863m tall and has a large crater at its peak.
Batubulan
The village of Batubulan, known as the stone carving centre of Bali, is another great destination to explore the island's rich culture and interesting customs. It has become famous for its intricate stone sculptures made here, and barong dancing.
The name of the village translates as 'moonstone' and skilled craftsmen create sculptures from soft volcanic rock, known as paras, which are displayed along the main street of Batubulan. These traditional masterpieces were used as decorations for palaces, temples and Balinese homes. Nowadays tourists can also buy these artworks and sellers can arrange to have them shipped to your door back home.
Garuda Wisnu Kencana Cultural Park
This newly established park in Nusa Dua is a centre for cultural events and large-scale international events in Bali with both indoor and outdoor venues. The hilltop park is a lovely setting and provides beautiful panoramic views of the coast.
The GWK statue stands 150m tall when finished and is visible from several towns and resorts around the southern part of the island. There are daily traditional Balinese dance performances and the park entrance fee entitles you to watch one of the best Kecak dance shows in Bali. You can even try a new riding experience exploring the park on a 2-wheeled eco-friendly Segway!
Adventure Sports
Canyoning (also known as kloofing) is a great way for adreneline junkies to get their fix and explore nature at the same time. There are various river routes in the north of Bali from beginner to advanced, where trailists will shoot down natural water slides, leap of ledges and waterfalls, and abseil or rappel down walls, whilst exploring the stunning mountain gorge scenery. Half or full day trips are accompanied by professionals and 14m jumps and 40m rappels are sure to get most hearts racing.
Near to Ubud are some quad bike (ATV) trials. This activity might not be the most eco-friendly option, but it sure is a lot of fun. Race down hills, across rice terraces and along river beds on these powerful and sturdy machines, purpose built for the rugged terrain that you will explore.
Golf Courses
Bali has recently become known as a great golf vacation destination in Asia Pacific. There are 5 golf courses on the island; 4 of them have 18 holes and 1 has 9.
Bali Golf and Country Club was voted "One of Asia's 5 best golf courses" by USA's Fortune Magazine. Located in Nusa Dua, the 18-hole course has multiple tees ranging from 5,028 to 6,871 yards, par 72. Designed by Robin Nelson and Rodney Wright, the course hosted the 1994 Asian Dunhill Masters.
Nirwana Bali Golf Resort is a Greg Norman designed championship golf course on the southwest coast. The 6,775 yard, par 72 championship standard golf course was voted as the No. 1 course in Indonesia by Golf Monthly and Golf Digest.
Bali Handara Kosaido Golf is the oldest golf course in Indonesia. It is set in an extinct volcano in Bedugul in the northwest of the island, 1,142 metres above sea level where the average temperature is 18°C. The championship course is 7,024 yards, par 72 and is deceptively difficult.
The Bali Beach Golf Course is a flat 9-hole, par 36 course in Sanur. The course is not championship standard and caters for golfers on a tighter budget.
The new Kuta Golf is a new seaside golf course near Jimbaran, Kuta. The 18-hole, par 72 course is designed by Ronald Fream, David Dale and Kevin Ramsey and comprises of 85 hectares.
Nusa Lembongan
This tiny unspoilt island of Lembongan is a world away from some of the busier tourist hotspots in Bali and is a great place to relax and chill-out. However, there is still plenty to see and do if you're feeling energetic. One of its biggest draws is its natural beautiful landscape with stunning beaches, fabulous cliff top views and unrivalled sunsets.
Surfing and Water Sports
Keen surfers won't be short of company here as Lembongan Island was first established as a vacation destination by surfers, and it has long been part of the Bali surf circuit. Although the island has a tiny population, several locals have made their name as international competition standard surfers. The surfing breaks here are pretty good although sometimes a little crowded.
There are 3 main breaks; Playgrounds, Lacerations and Shipwrecks, which are all close offshore at the top half of the west coast Jungut Batu beach. If you're feeling energetic you can reach the breaks by paddling, otherwise you can charter a local boat from the beach to take you out.
The surfs break over coral reefs so are usually more suited to intermediate or experienced surfers, however Playgrounds is a little more forgiving and can be enjoyed by beginners too. There is another notable surf break off Nusa Ceningan which attracts some surfers away from the more crowded breaks on Nusa Lembongan.
You can surf here all year round but the waves are best from April to October when the winds are from the southeast. This is also the most crowded time of year. You can also try stand-up paddling on calmer sea days. Surfing lessons are available and can be arranged through your hotel or on the beach.
All types of water sports are available in Lembongan and families with children will have no shortage of options. Mushroom Bay in particular, is a water sports haven where you can hire jet skis and wake boards and take an exciting ride around the bay on a banana boat. If you prefer something a little more environmentally friendly you could try your hand at sea-kayaking. All these activities can be booked through your hotel or on the beach at Mushroom Bay or Jungut Batu.
Walking
Nusa Lembongan is a great place for walking and you can just head off and explore along the numerous tracks across the island. Coastal paths link nearly all the resorts, guest houses and restaurants. Most walks take less than a couple of hours and the island is only 4 kilometres long.
From the end of the beach at Jungut Batu it is a 35 minute walk along the coast to Mushroom Bay. The south western part of the island is less developed and has some fabulous coastal paths which are an easy walk and offer spectacular views over to Bali. Devil's Tear is a rocky outcrop on this coast. The crashing water provides some of the most dramatic wave formations on the island. You can find it by walking just a few minutes north from Dream Beach. Continue northwards to Sunset Beach and explore the cave. If you arrive at low tide you can access the cave at the eastern end of the beach or stop for a refreshment at The Beach Club.
From here follow the footpath leading northwest up the hill and back onto the cliff path. You can see right across the Badung Strait to Bali from here. Follow the cliff path northwards and then around to the east, all the time enjoying the dramatic coastal formations. Keep following this path eastwards and you will descend down into Mushroom Bay.
You can also walk to the tiny neighbouring island of Nusa Ceningan via the quirky suspension bridge. Northern Nusa Lembongan has an extensive forest of mature mangroves. You can reach the forest by continuing north on the only west coast road from Jungut Batu.
Seaweed Farming
There is a thriving and well established seaweed farming industry on Lembongan, and many visitors like to find out more about it. The farming takes place in many parts of the island but the shoreline on the southeast side of the island is the most easily accessible to observe the goings on. Most of the seaweed grown here is an important ingredient in the Asian cosmetics industry.
In order to farm seaweed the sea water needs to be clean, relatively shallow and sheltered from large ocean swells. The seaweed farming plots look like a giant patchwork quilt as the tide recedes. As a crop seaweed is fairly fragile, the fields should remain covered in water at low tide, and must not be subjected to extreme fluctuations in water temperature or salinity.
Cultivation is done by taking offshoots from the parent plant and attaching them to rope lines which are anchored to the sea bed by bamboo stakes. The new growth of weed is able to be harvested between 4 and 6 weeks later, and then every 45 days after that. The harvested weed is laid out to dry for several days, before being sent to market to be sold.
2 substances are obtained from the seaweed. The first, Carrageenan is a thickener used in cosmetics, hand lotions and shampoos. It interacts with human carotene to give soft skin and silky hair. The second is Agar, or agar-agar, which is a vegetable gel. It is used chiefly as an ingredient in desserts throughout Asia and in particular jellies and ice-cream. It is also used as a vegetarian gelatine substitute, as a thickener for soups, and in laxatives.
Suspension Bridge
A visit to this yellow quirky bridge should not be missed! You can walk or cycle across the bridge to neighbouring Nusa Ceningan Island. You can find it by going through Lembongan Village and heading west. Keep on the main road until you hit the estuarine channel. The bridge is perfectly safe although it does make a lot of noise which adds to the 'Indiana Jones' experience.
Ceningan Island offers some scenic pathways and the estuarine channel between Lembongan and Ceningan is home to many seaweed farms.
Mangrove forest
You can explore the mangroves aboard a small jukung (traditional boat), by kayak or by foot. If you are looking for a bit of peace and quiet surrounded by nature, this is an experience that won't disappoint. There are many bird species and you'll see lots of colourful mud crabs.
Temples
Puncak Sari Temple is located on a hilltop just north of Lembongan Village on the main route back to Jungut Batu. It is the largest and most ornate Hindu temple on the island and overlooks the Indian Ocean. There are stunning views from here over the straits to the east coast of Bali and the neighbouring islands of Nusa Ceningan and Nusa Penida.
Underground House
One of the most unique attractions on Nusa Lembongan Island is Gala Gala; the Underground House. It was built and dug out by Made Byasa, using only a hammer and chisel and took 15 years to complete. The unique labyrinth includes a bedroom, dining room, kitchen, bathroom and meditation room. There is also a small shrine, a sacred Banyan tree and a well. 2 ventilation outlets replenish the circulation of air in the underground caverns.
The house, which is located down a small lane off the main road in Lembongan Village, is managed by Made Byasa's family and features a rest room and a stall selling refreshments and souvenirs. A small donation is required when entering for the mandatory use of a sarong and sash to be worn inside the house. A notice board explains the concept behind the creation of Gala Gala along with a photo of Made Byasa.
Tulamben
Tulamben is a small fishing village, 30 km north of Amed, and about 20-30 minutes drive. This is the most commonly used base for visitors wishing to dive the USS Liberty wreck and there are other good Bali dive sites close at hand.
The pace of life here is slow and the coastal scenery quite stunning making it a good place for a relaxed diving vacation in Bali. As well as being very popular with scuba divers and snorkellers it is a favourite honeymoon destination.
Salt
Salt production is a declining but still important industry in this area. All along the main coast road through the villages you can see large open drying pans crusted with salt crystals. The all-natural unrefined sea salt made here is said to be one of the best tasting salts in the world. Small boxes of gourmet Bali salt crystals are sold in delicatessens and speciality food stores worldwide and may have started their journey from these same drying pans.
You can buy bags of this salt, which is sold as quite large crystals, and this is a lovely souvenir of Bali. It can be used in cooking and is particularly good with fish and on salads. It also makes very good bath salt.
Local Market
A visit to the local market is often a fascinating experience and gives a little insight into the real Balinese culture. Tulamben's local market is often crowded and aside from the produce and products on offer, it is a great place to people watch. The market is always vibrant and lively and as you wander around you will be treated to a delightful array of colours and aromas.
Traditionally the market is where locals buy their every day necessities, fresh food and temple ceremony items. At Tulamben market you can find stalls selling local farming produce such as fruit and vegetables, as well as spices, rice, cakes and salt. Other products on offer are clothing and traditional fabrics. Livestock is also sold in this market.
White Water Rafting
If you're looking for some adrenaline pumping action you can go white water rafting at Telaga Waja River, below Mount Agung. The journey is exhilarating and great fun as the rapids sweep you through narrow gorges, steep canyons and natural waterfalls. The scenery is spectacular and you get the chance to see parts of picturesque rural Bali that you wouldn't otherwise see.
Walking
This quiet coastal area affords lots of opportunities for taking a leisurely walk. If you're looking for something a little more strenuous, how about a trek up the Mount Agung volcano which is just 40 minutes away. A day trip can be arranged through your hotel.
Tirta Gangga Water Palace
The Tirta Gangga Water Palace is a beautiful complex of pools and fountains set in a lush green landscaped garden full of stone statues and carvings. This is a lovely spot to relax and for a small fee you can bathe in the pools.
The name means 'Water from the Ganges' and is a significant holy Hindu site. Built in 1946 by the King of Karangasem (East Bali), it was almost destroyed by the 1963 Mount Agung volcano eruption but has since been lovingly restored.
King's Palace in Amlapura
The town of Amlapura, which is the capital of East Bali and quite close to Tulamben, is the location of the King's Palace or Puri Agung. Some parts of the complex are now open to the public and display a mix of Balinese and European styles.
The main residence building was built by the Dutch in the late nineteenth century as a gift to the king to help strengthen ties. The original furnishings were donated by Queen Wilhelmina of Holland. The wall of the front veranda of the residence is very interesting as it is lined with old photographs of the royals and visitors to court. In front of the residence are several smaller buildings and a serene pond with a large open air pavilion in the middle.
Padang Bai
Most people come to Padang Bay on a Bali dive trip or to take a ferry to Lombok, but it is a lovely village and charming little place in its own right. You do not really need any transport in Padang Bai as everything is within walking distance. If you want to explore the surrounding area, car and scooter hire is widely available. You can explore some of East Bali's wider attractions from here too.
Temples
Padang Bai has 5 major Hindu temples. The most interesting one is Pura Silayukti which dates back to the 11th Century and was once the home of the great Hindu sage Empu Kuturan. It is one of Bali's oldest temples and is located at the eastern end of Padang Bay along the beach road and up around the headland. You can also find Pura Telagamas and Pura Tamjungsari in this area.
Pura Segara can be found next to the beach between the village and the main beach, while the 5th temple, Pura Dalem, is located downtown. Although the latter 4 temples are not especially notable there are still worth a visit.
A little further afield you can find Goa Lawah, one of the 9 kayangan jagat - directional temples that are believed to ward off evil spirits from Bali. This temple was built to protect the southeast area of the island. It is an important temple especially during religious festivals when it can be very busy. Outside the temple entrance there are many sellers but once inside the ambience is calm and serene. The stone work is very interesting and in the inner courtyard of the temple there is a cave full of bats. You can see the bats from outside the cave, hanging in their thousands from the ceiling.
Walking
Reaching the best beaches provides some pleasant walking in Padang Bai. To reach Blue Lagoon Beach, head east on foot over the prominent headland at the eastern end of the main bay. Follow the signs that say Blue Lagoon.
The walk to Bias Tugal Beach takes about 15 minutes from the ferry terminal. Head directly west from the entrance of the ferry terminal along the narrow tarmac road. After 200 metres you'll come to an opening that climbs fairly steeply up a rocky path. Once at the top of the hill a dirt track leads down to the beach. While descending you are treated to a fantastic view of Mount Agung - a dramatic sight.
Pemuteran
Pemuteran is a small laid-back village which has become increasingly popular with vacationers in recent years. Its proximity to Lovina and West Bali National Park together with the stunning natural beauty of the area has fuelled quite rapid growth in tourism infrastructure in the area. With its gorgeous green mountain slopes that dominate the village and pretty deserted beaches, it's easy to see why visitors are attracted by more than just the Bali diving. It is a very relaxing place to stay which offers peace and tranquility.
Walking and Trekking
The stunning scenery in this area makes walking very pleasant. The fine black sand beaches are particularly pretty. Pemuteran Beach is quiet and the sea is often flat calm. Between resorts there are lots of little dirt tracks that lead to the homes of the local fishermen and farmers. A small house surrounded by greenery and a cow or buffalo grazing by the door is a common scene here.
Heading west from Pemuteran Beach there is plenty to see. Navigate your way past the jumble of jukungs and other fishing boats and carry on for about 500 metres until you see signs for the bio-rock project. Continuing west, away from the hotels you'll enter an agricultural area that fronts a coral reef with turquoise-blue water and the lush mountain range of the West Bali National Park behind. The scenery is dramatically beautiful. There is a temple on the hill at the western end of the beach.
A little further afield is Lovina Beach, which is a coastal area on the north eastern side of Bali, and encompasses the small villages of Temukus, Kalibukbuk and Anturan. It is becoming more popular with tourists but is still quiet and relatively unspoilt.
A highlight of the region is trekking through West Bali National Park which is home to deer, wild pigs, macaque monkeys, the timid large black monkeys and a wide range of bird life including the elusive Bali starling. The National Park is easily reached from Pemuteran and a trekking or bird-watching tour can be arranged through your hotel. This is usually an all-in-one service that includes transport, park entry fees, a guide and lunch.
If you have your own transport and prefer to make your own way, head straight to the park office in Labuhan Lalang where you can find a price list giving a range of trekking options and prices. A 3-hour guided trek is usually sufficient to see some of the forest wildlife. It is hot and humid in the forest so take plenty of water. Sturdy shoes and mosquito spray are also recommended.
Bio-Rock Reef Project
Pemuteran is home to the largest artificial Bio-rock reef project in the world and there is a real spirit of marine conservation effort in this area. The project is aimed at revitalising the coral that has been destroyed through destructive fishing methods and rising sea temperatures.
The regeneration of the reef is done by sending low-voltage electrical currents into wire structures beneath the water. This electricity stimulates the coral to grow 5 times faster than normal. Since the project started many different kinds of fish are returning to the reef and several new diving and snorkelling sites have been created. The whole area around the reef has been declared a no-fishing zone and is protected by the locals. Located about 500 metres west of Pemuteran Beach. Read more about the project: Bali Coral Reef Regeneration.
Proyek Penyu - Turtle Breeding Project
This is a turtle breeding and release project run by Reef Seen Aquatics in co-operation with local villagers. Tourists can sponsor the release of a young turtle and for a small fee carry it to the ocean and watch it swim away. Any baby turtles remaining after a few months are released by local school children.
Sometimes older turtles that have been caught in nets are brought to the sanctuary and these can also be released. The fee is slightly higher as half the money goes to the fisherman who brought the turtle in, compensating for the loss of income by not selling the turtle for meat. Once you have paid the fee for releasing a turtle or to visit the hatchery you can return as often as you like. The project is very much worth a visit and certainly worth your support.
Vineyards
The area around Pulaki Village, which is just east of Pemuteran, is full of emerald-coloured vineyards and is the centre of the grape growing industry in Bali.


---
CUSTOMER TESTIMONIALS OF DIVE THE WORLD
... Dive The World provides various diving products, the website is very useful, I can almost find anything I want. I would like to recommend Dive The World to my friends ... -- Yuping Chen, China. [More customer reviews]