>
Newsletters
>
September 2007
>
Interview with an Underwater Cameraman
Dive Travel Newsletter
Do you Want to Work as an Underwater Photographer?
Gavin Macaulay talks to Roger Munns about life as a professional underwater cameraman.
Note: Since the below article was written, Roger Munns has become a freelance cameraman. You can read more about his underwater exploits and get in touch through www.roger-munns.com
Thanks for taking time out from your busy schedule to talk to Dive The World, Roger. We would like to get a feel for your profession and ask the questions that recreational divers (perhaps with an eye on a career in diving) might pose.
So let's start by telling us what you do for a living.
I am Senior Cameraman in Scubazoo, South East Asia's leading underwater imaging company, where I have worked for the past 6 years.
How did you get into this line of work?
I have always loved the sea and fell in love with diving from dive one. I also wanted to photograph the underwater world. Through a combination of luck and timing, I was offered the opportunity to train and work with Scubazoo.
How did you get involved in underwater videography?
Well, 7 years ago I was in Byron Bay, Australia, surfing and living in the back of my station wagon, when there was a seriously long flat spell. With zero waves to be had I got a job (unpaid) helping out at a local dive centre. After a week of washing boats and filling tanks, they finally took pity on me and put me through my open water course for free.
I loved the open water course and immediately became an advanced diver and started guiding dives at that stage. It was then that I realised I wanted to be a divemaster, and so I continued my travels up the east coast and completed my DM course in Port Douglas, where I worked for 3 months on the Great Barrier Reef.
After I left Australia, I travelled to Indonesia (for more surfing) where I heard about the incredible diving in Sipadan, Malaysia, where my best friend was working as a DM. In Sipadan I took over the job he vacated and there I met Scubazoo staff and became increasingly interested in joining them. They offered to train me up and employ me as a resort videographer in SMART Resort. Now I am part of a team that shoots television programmes around the world.
What is the best part of your job?
Probably the most obvious answer would be the destinations I get to visit. Through work I have travelled all over the world, including highlights such as Tonga, South Africa and Bali.
Secondly, I get to see some incredible sights underwater, much more so than I would be able to as a once-a-year recreational diver: Mola Mola, Thresher sharks, Tiger sharks and Humpback whale encounters have all been unforgettable experiences. Even Green Turtles still give me a buzz.
Getting paid to do what I love, and what others would work 50 weeks a year to pay to do, is also something I could only have dreamt of as a kid. I also get to work with really cool people and enjoy making films that help conservation efforts by highlighting the plight of the marine world. It is easy to forget all these benefits but if I compare it to what I might have done, accountancy in the UK, I can't help but be happy with my career choices.
What is the worst part?
Travelling can be the best part and the worst part. Airport experiences are seldom very interesting and I am often travelling with hundreds of kilos of kit in places which are remote, and where the lack of infrastructure means delays and cock-ups are inevitable.
Being obligated to be on the sea in bad weather and diving in poor conditions can be a bit of a drag. Also the nature of the job is that we have to strive to practically guarantee sightings and footage, which is not easy given the random nature of the underwater world. Fulfilling these expectations can make the job quite high pressure.
The above water time can be trying: For every hour underwater there are several hours spent editing, arranging logistics and doing general office work which, compared to diving, is clearly not great.
I have also found myself visiting certain places several times over the years, and seeing marine life disappear in front of your eyes can be very upsetting. Once I was filming in Northern Taiwan at a fish market where in one morning 60 or 70 sharks were brought in, all with their fins cut off and that was pretty disturbing. I was filming mutilated sharks of several species including threshers, makos and hammerheads, whose heads had been cracked so they could fit in the ship's hold.
I know I have a great job and I love what I do, so I am loathe to complain about my lot, but as with all 'lifestyle jobs' the reality is seldom as glamorous as one might think. It takes a lot of hard work, patience and a little bit of luck to get anywhere. There are a lot of people who are trying to make it in the industry so there is plenty of competition.
Before this job were you (a) a good diver (b) a good photographer?
I was a divemaster so I was a pretty good diver in the recreational sense. As far as photography goes I was an amateur photographer with an SLR, so I suppose I was 1 step above taking holiday snaps.
Can anyone who dives become an underwater cameraman? What attributes are needed?
Being a good diver is most important in my view. You need to be at the stage where diving is second nature and you don't have to give the act of diving any thought.
You need to be able to frame a shot which requires a 'good eye'. Some people simply don't have that. Steady hands are also important, as is exceptional buoyancy and the ability to hold a camera rock solid, regardless of what the rest of your body is doing or what forces are acting on your body e.g. currents or surge.
It is also useful to have, or certainly to develop, a good understanding of marine life because you will have to anticipate behaviour and understand how to approach marine life. This also helps you to be able to find things underwater, where certain species live and how they interact with their environment. That comes only from experience.
Can anyone do it? If someone has the natural abilities I mentioned above and they want it enough then why not? It is not difficult to become a videographer but, as in every profession, genuine talent and drive is what separates the very best from everyone else.
Have you ever encountered difficulties underwater during the course of your job?
There is always one additional difficulty, that is that you are thinking about the camera all the time. If you find yourself in trouble the instinct is to preserve the expensive camera or the footage you have just shot rather than self-preservation!
It is always tempting to stay down longer to get the shot e.g. you could be waiting for something to happen, and it is not uncommon to push the limits much more than you should or would as a recreational diver. I have lost count of the number of times I have come up on my last breath of air.
Those are the additional difficulties than cameramen most commonly face. In terms of danger from conditions or marine life then there have been a few moments worthy of mention.
After 1 dive in the Maldives, we were so focussed on the footage we were capturing that we were swept away by current and surfaced very far from the boat. We managed to fin to safety on another island otherwise we could potentially have been drifting into the vast Indian Ocean.
Great white sharks are the creature many people ask me about. One time during a shark shoot for Channel 5 off Guadeloupe, we were diving using 3 cages. The winches were not strong enough to lift the cages out of the water. At the end of each dive, in water thick with chum and blood and still with 4 or 5 great whites around us, we had to get out of the cage and swim around to the back of the boat! We were basically making a dash for it which was a little on the worrying side. It was feeding time and the speed with which they attack was certainly in my mind as I hurried to get back on the boat.
Shooting tiger sharks in South Africa also caused my heart rate to increase a tad. We were diving in Aliwal Shoal and had set up a bait stem. This was basically a big chunk of tuna dangling from a buoy with a drum of sardines emitting a stream of attractive fish scent into the water. We were in the open ocean drifting in the current with the bait stem. There was nothing around us but water and nowhere to hide. With a mask on your field of vision is restricted so we had no idea what was behind or below us, and all the while there were perhaps 20 black tips, 4 or 5 tiger sharks and the occasional bullshark all with dinner on their mind, and all in about 5 metres visibility!
You have to expect getting a few bumps by the sharks. They run into you with their noses, bang off your fins or into the camera lens; an experience not for the faint-hearted. There are normally at least 2 cameramen in the water at any given time and we sometimes mess around with each other in these circumstances. I remember sneaking up behind Jason, the other cameraman filming the sharks and tugging at his fins. I am not sure he found it too funny at the time and I can't be certain but he may well have released his own scent into the water just then.
I have never encountered any indiscriminate aggression from a shark but there are plenty of sea creatures who will strike out. Almost always this is for their own protection and in circumstances where I am unaware that I have invaded their space. I was bitten by a black cheeked moray in the Maldives once. I was filming a turtle at the time and unwittingly had my elbow directly in front of his hole. He snapped at me quite violently although my wetsuit literally saved my skin. He also bit the turtle on the flipper although the turtle didn't flinch as much as me.
Titan triggerfish have had several goes at me. Each time I was busy capturing another subject and unknowingly swam too close to a nest. They are fiercely protective and can launch a blitzkrieg attack swimming into you with quite a force. Thankfully my exposure suit gave me enough protection to ensure I was left only with a nasty bruise and not missing a chunk of flesh.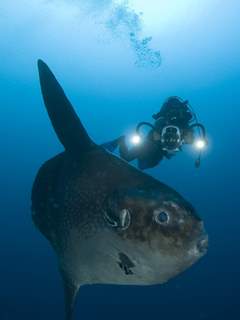 Tell us about some of you best memories or favourite encounters.
One of my favourite memories is being surrounded by about 10 Mola Mola in Bali filming for Channel 5/Animal Planet's 'Great Ocean Adventures'. It can be an incredibly intense dive anyway because of the cold water and strong currents, including down currents. However the feeling of being suddenly surrounded by several specimens of the biggest bony fish in the ocean was really breathtaking. Diving with Mola Mola should be on every diver's 'must do' list.
Probably one of my proudest moments as a cameraman was filming mating green turtles in Sipadan for a BBC series called 'Life in Cold Blood'. I knew that this would be narrated by David Attenborough, and the thought of having the legend himself narrating my footage was quite a thrill. A few months after the shoot, I got a call from the director saying that Sir David had been in to view the rushes in BBC Bristol and was very happy with the sequence. That's as good as it gets for me!
I actually met David Attenborough briefly when he came to Sabah to film giant bees, and Scubazoo managed that project. He was very keen to watch the England rugby match but the bar we were in was very noisy so he invited the crew back to his suite. The experience of sitting around drinking beers and watching rugby in his hotel room was quite bizarre and something I'll never forget.
I am also very proud of my photographic contributions to 'Reef'- our new coffee table book project which is being published throughout the world in several different languages. I was also one of the editors for the accompanying DVD. We worked day and night for 3 weeks to make it, and in my opinion it really helps to push the book to the next level.
Advice for anyone who is keen to get into the profession?
Well, the first step is to become a good diver with, above all, a mastery of buoyancy. If already a decent diver then resort video filming is the best way to get a lot of hours underwater with a camera, which helps perfect your skills. You also get paid to gain vital experience. In your off time you should build up your show reel (effectively your underwater CV). In doing so it is important not to focus solely on filming the big stuff. The important thing is to show that you are capable of telling a story through your images, since that is what documentary filmmaking is all about.
You would be well advised to take a serious course where you get shown all the ropes and the tricks of the trade.
Any advice on entry-level equipment?
I would recommend something like a second hand Sony TRV 950, a small 3 chip camera. It is not the latest piece of kit in the marketplace, but although it is slightly older it is a great work horse. The tapes can be transferred onto your laptop using the camera and then edited using appropriate software, such as iMovie on the Mac or Ulead on a PC.
These days, if you already have such a laptop or computer, you can buy the camera and housing for around US$ 2,000 second hand.
Thanks very much Roger. It has been great to talk to you. Any exciting destinations or shoots for you in the near future?
I'm office based for the next few weeks, gearing up for the launch of 'Reef'. We're producing a range of canvas prints to complement the book. Next on the horizon for filming is the Ecogames adventure race in Langkawi, Malaysia ...
You can read more about the work and opportunities at Scubazoo by checking out their website: www.Scubazoo.com