>
Newsletters
>
April 2012
>
Galapagos Sky Liveaboard Trip
Galapagos Islands Liveaboard Diving Newsletter
Trip Report: The Galapagos Sky
There are numerous amazing dive destinations in the world but one in particular stands out from the rest in offering an intriguing scientific history and fascinating sightings, both above and beneath the waves - the Galapagos islands.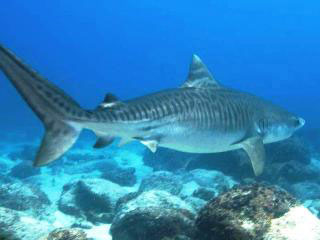 Whale sharks, hammerheads, Galapagos sharks, dolphins, sunfish, sea lions and fur seals all beckon along with giant tortoises, blue-footed boobies and iguanas.
My dream of diving there became a reality when I was lucky enough to make a recent visit onboard the Galapagos Sky liveaboard. My experience proved that all the good things I had heard about diving in Galapagos are true …
Getting to the Islands
It took me 2 days to reach Ecuador from Malaysia while battling a stinking cold – not the best way to begin my 'once-in-a-lifetime' trip. However I was feeling a lot better as I boarded the flight to San Cristobal from Guayaquil. As soon as we got to the pier we were presented with our first marvellous sight – a blue-footed booby, sea lions and red crabs – just seemingly lazing on the rocks! I had arrived in the Galapagos!
We boarded the Galapagos Sky and as we introduced ourselves, I was interested to see that Peter Hughes himself was on board, along with David Espinosa, the editor of Scuba Diving magazine, and Michelle Westmorland – a well-known photographer. We settled in and were soon on our way to discover Galapagos' diving delights.
• Watch our Galapagos Islands diving video
The Diving at Galapagos
The very best of scuba diving in Galapagos is show-cased at the far northern islands of Darwin and Wolf. Here you will see huge schools of hammerhead sharks – often more than you can count. Although the hammerheads are a big draw, there are plenty of other amazing encounters to be had.
At Darwin and Wolf I enjoyed some intimate moments with sea lions as they played and dived around me – at one point there were 3 all circling around me. I did not know where to look. Further south at Vicente Roca, I watched one pluck a pufferfish from the reef and proceed to play with it. Thankfully the sea lion got distracted and the puffed-up fish was able to escape to safety.
Dolphins were almost as inquisitive as the sea lions and one even swam alongside us for a while. We saw them regularly on our safety stops and on one occasion we watched a pair copulating! I also saw tortoises and birds mating while on my trip – there must have been something in the air.
The Galapagos is fantastic for sharks. I found it both thrilling and unnerving to be surrounded by Galapagos sharks and hammerheads, especially at Roca Redondo when I was low on air, down current from the group and had to do my safety stop alone. At Wolf and Darwin some of the group saw a tiger shark and a whale shark, sadly I missed those but I did see several silky sharks and white tips.
Another highlight for me was the particularly cold dive site Punta Vincente Roca where we saw a large white sunfish or mola mola. It swam right into our group before moving off leaving us wide-eyed with amazement. There were many other 'firsts' for me – too many to list here but I will always cherish those memories.
The Liveaboard Boat
The MV Galapagos Sky is a well-run, purpose built Galapagos diving liveaboard and the little touches have been taken care of so all your needs are met.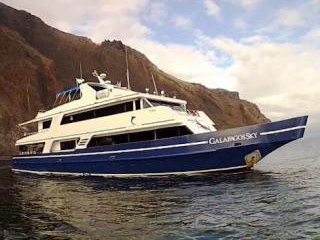 The cabins, although not luxurious, are adequate with comfortable beds and plenty of light. I stayed in a twin cabin on the upper deck with large windows – great for nature spotting as there is always something to see. The cabins have either twin or double beds and are all the same except the ones on the lower deck which have portholes. When you book, ask for a cabin on the upper deck with windows if possible. The cabins also have a music and PA system which is used for wake up calls and calling guests to dive.
On the dive deck there are 2 hot water showers and 1 toilet. Each diver has their own station and the tanks are filled in their place. The diving procedure is simple – after gearing up you enter one of the 2 dinghies, and the crew are always on hand to help you. We dived in groups, backwards rolling off the dinghy and there was at least 1 guide per dinghy. The dive deck store cupboard has plenty of spare parts and any breakages and replacements we needed were swiftly dealt with. The camera table is a good size too.
On the sun deck there are plenty of sun loungers along with 2 hammocks, and this was the perfect place to chill-out while watching the scenery and myriad of flora and fauna. After each dive we were given a warm towel and hot chocolate with snacks – very much appreciated, and as all the washing of our dive equipment was done by the crew, we could just step out of our gear, relax and reflect on the dive.
Good Food and Plenty of It
Food is a big spread, international-style but with a slight Ecuadorian influence. We often had soup, a choice of salads, bread and fresh fish and/or meat with rice or potatoes.
The complimentary wine and beer are free-flowing and the friendly barman is always on hand to top you up. Snacks available 24 hours a day include cereal bars, dried fruit, biscuits, nuts and sweets.
Land Visits
On Santa Cruz we had the opportunity to visits the giant tortoises that live on an enclosed ranch. The vegetation is lush and green here so there is plenty for the tortoises to eat and they have lots of space to roam. Later in the trip we all boarded a dinghy to visit the coast of Isabela Island and watch the sea lions, penguins, pelicans and marine iguanas – another fantastic photo opportunity.
The last day of the trip includes a visit to the Interpretation Centre in San Cristobal. Here you can find out all about the islands' endemic creatures, the history of the islands and the problems they face. Land visits by liveaboards are tightly controlled by the marine park authority so if you want to spend more time with sea lions, flamingos, iguanas and colonies of boobies, a land-tour or a non-diving liveaboard cruise is a good idea.
Conclusion
It's not difficult to glean from this report that my time spent on the Galapagos Sky was simply amazing. Several other experienced guests agreed that it was their best liveaboard trip ever. Even Peter Hughes was happy, stating that trips like ours happened "frequently but not always".
Having dived in Galapagos means all my other diving experiences have paled in comparison and although there are many fantastic dive destinations around the world, Galapagos has to be one of the best ever. Only by being there can the experience be fully appreciated. Even if I never get to go back, the marvels I have experienced will stay with me forever and always be cherished.
Written by Gavin Macaulay, January 2012