Your Guide to Diving in Rakiraki
Bligh Water - Viti Levu Adventures
...Highlights: turtles, great macro life/marine diversity, schooling fish & big pelagics...
...Rakiraki/Bligh Water diving environment: healthy reefs, wall dives, drift diving, beginner and advanced divers, off the beaten track...
Situated in the northernmost part of Fiji's main island Viti Levu, Rakiraki is easily accessible from Nadi yet basks in an atmosphere of remoteness and seclusion. Unlike the busy Coral Coast where there are an abundance of tourist resorts, the district of Rakiraki feels like a distant island.
The dive sites of Rakiraki are such that beginners can feel comfortable and enthralled while experienced scuba divers can enjoy the diversity of topography and marine life. Local sites are nearby and easily accessible from the land. There is also the chance to visit the more distant and highly-rated sites of the Vatu-I-Ra Passage in Bligh Water, which are considered among Fiji's best.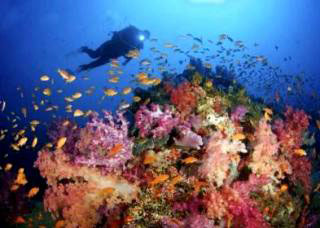 Local sites offer a wide range of variation from dive sites where tunnels, swim-throughs and canyons provide an ever-changing vista, to life-filled walls, reef flats and impressive pinnacles. Many Rakiraki sites feature the signature soft corals that make Fiji diving famous. You can expect a lot of vibrant colours and large numbers of fish, a photographer's dream during periods of good visibility.
Diving in Rakiraki is characterised by swarms of brightly coloured tropical reef fish including Moorish idols, damsels, butterflyfish and red emperors. However there are also larger more impressive fish that can be sighted in the region. These include schools of barracuda, trevally, rock cod and more. You are also likely to encounter sharks such as black tip, white tip, bronze whalers and grey reef sharks as well as turtles. For those more interested in the smaller stuff, nudibranchs abound and you could find yourself framing that perfect picture of a Spanish dancer. Thanks to the variation in terms of diving difficulty, topography, depth and marine life, there really is something for every diver in Rakiraki.
If you are seeking the big stuff then take a full tank and dive Breathtaker. 3 coral heads sit at around 25 to 30m from a base of around 100m, meaning upwellings of nutrients and a resultant throng of activity. You will almost certainly encounter sharks here in impressive numbers, including blacktip, grey reef sharks and whalers. If you can see past the sharks you will see the coral heads festooned with vibrant purple gorgonian fans. Keep an eye out for mantas, barracuda and Spanish mackerel at this well-named breathtaking Viti Levu dive site.
Some of the Rakiraki dive sites are named after their remarkable topography as is the case with Amazing Maze, featuring channels, swimthroughs and canyons to explore. Fans, coral trees and soft corals line many of the walls and provide shelter to innumerable smaller reef fish that live here, close to Nananu-I-Ra Island. Good buoyancy is needed to control movement rather than depth concerns as this site bottoms out at around only 20m.
If you want to go further afield than the local sites then the Vatu-I-Ra Passage awaits you. These dive sites are located in Bligh Water and are a greater distance from land. Unless weather conditions prevent it, they too can be dived on a daily basis from the Rakiraki dive resorts. This area boasts deeper, more exposed sites such as Mellow Yellow, famed for its profusion of soft yellow corals, and Wheatfield where twin towers rise from a depth of 45m surrounded by an abundance of marine life. These are sites more often visited by Fiji liveaboards and are considered among the country's best.
There are also a couple of wreck dives accessible from Rakiraki. The Papuan Explorer at Nananu-I-Ra is a popular wreck as it was purposely scuttled and lies in 20 metres of water, close to shore. It is Fiji 's largest and most accessible wreck and it is teaming with sealife. For the highly experienced, the Ovalau II offers an exhilarating 55 metre dive on a car ferry wreck. The Ovalau used to operate between Viti Levu and Vanua Levu, but in August 2003 its engine flooded and it sank without loss of life.
Other diving sites worthy of note include Black Magic Mountain, Mary's Maytag, Pandora's Box and Pot Luck.

Reef Summary: Submerged pinnacles, walls, macro life
Depth: 5 - 30m
Visibility: 20 - 30m
Currents: Moderate to strong
Surface conditions: Calm but can be choppy
Water temperature: 26 - 31°C
Experience level: Beginner - advanced
Number of dive sites: >50 (including Vatu-I-Ra)
Diving season: All year round
Distance: 88 km east from Nadi
Access: Rakiraki dive resorts
Useful References

---
CUSTOMER TESTIMONIALS OF DIVE THE WORLD
... Your responses were always very quick which made it easy to book our trip. You also gave great advice on which liveaboard you recommended for us. I was very pleased with your service. From my experience with you I don't think you need any improvements ... -- Nicholas Baumgartner, Australia. [More customer reviews]