>
Dive Destinations
>
Fijian Islands
>
Vanua Levu
Your Guide to Diving in Vanua Levu
Dive Savusavu
Vanua Levu is home to the type of diving for which Fiji is famous: fabulous wall, caves and overhangs festooned with all manner of hard and soft corals, a great variety of reef fish as well as jaw-dropping encounters with mighty pelagics. Unlike some other areas in Fiji however, Savusavu diving, accessed from the nearby resorts, has such a variety of sites that there is enough to keep all levels of scuba diver happy during their trip.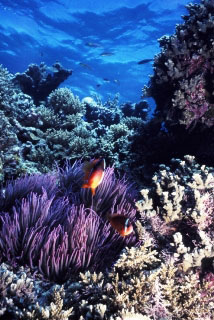 Within the relatively sheltered confines of the enormous Savusavu Bay the sites are less demanding but far from uninteresting, whereas beyond, the currents that sweep up through the Somosomo Strait, can increase the dramatic intensity to levels of fever pitch. So it provides a range to suit all levels, from quite easy sites to the more exposed and challenging dive spots.
For example, Barracuda Point, for obvious reasons, is a much prized dive site in the Vanua Levu area. In addition to the huge school of formidable fish that gives this popular place its name, you may well run into other large animals such as hammerhead sharks. However, it is the antics of the batfish at the cleaning station that spread the most mask-filling smiles among scuba divers lucky enough to find themselves here.
Savusavu is an interesting town located on the shore of a magnificent harbour on Fiji's second largest island of Vanua Levu and is only a short flight away from Nadi or Suva. Those who come here will find high quality dive resorts, plenty of Fijian character as well as no shortage of topside activities. It is of course, the diving which is of the highest importance and with such variety, Savusavu in Vanua Levu cannot fail to impress.
Dive Site Descriptions for Vanua Levu
Barracuda Point
If you want to find a dive site where you can lose yourself in a mass of barracudas then this is the spot. That said there is more to this site than the huge silvery school that will surround you. Dropping in close to the shoreline near Savusavu, you will begin the dive by descending down a wall which drops to about 18 metres. The wall then swoops out into the sea to a point which has its depth at about 25 metres. As you may guess by the name, it is at the point where the great throng of chevron barracuda are most likely to be found, hovering effortlessly in the current.
Show more
Since there is a steady current flowing past here, it is no surprise that the point also features staghorn corals and gorgonian sea fans trapping as many nutrients as their wide span allows. If you are particularly lucky you may see the unforgettable sight of a school of hammerheads, their unmistakable snouts facing into the prevailing current.

To add a little more interest to what can already be a great dive, there is also a cleaning station where batfish line up to be tended to by little cleaning wrasses. You can watch them in considerable numbers as they hover at an angle while the little wrasses dutifully scurry around picking off the parasites from their clients' skins. Some wonderful photographs have been taken at this spot and few sites allow for such an intimate series of shots.

This Savusavu scuba dive normally ends as it begun by returning back the way you came to the wall where you can conduct your safety stop in shallow calm waters by the wall just off-shore. Barracuda Point is a popular site for a visit by liveaboard.
Dreadlocks
Why this site is called Dreadlocks is not entirely obvious since there are no Bob Marley or Bronze Whalers to be seen. No woman no crinoids either ...
Show more
Thanks to the location of this site, right in the heart of Savusavu Bay, it is one for all levels of diver and it can make a nice relaxing change from the adrenaline charged diving in Vanua Levu, beyond the bay.

As you drop in through the calm water you will sink down over 2 bommies that flank a picture postcard coral garden. This really is a very pretty site and one that deserves a deliberate and inquisitive approach. The tips of the bommies lie at about 5 metres in depth and are themselves covered in hard corals that bask in the sunlight.

As you make your way down and around these bommies the hard corals give way to their softer cousins which proliferate in varying hues of red, purple, orange and yellow. Keep an eye out for nudibranchs which are found in as good a variety here as anywhere in Fiji. Similarly there are plenty of unusual flatworms lurking in and around the soft coral coverage.

Oriental sweetlips and lionfish also tend to lurk in overhangs and other quiet spaces in the bommies. Across the fabulous coral garden, which varies in depth from about 16 to 20 metres, you should keep your eye out for more lionfish, as well as some harlequin filefish and butterflyfish going about their business. There is nothing to dread about Dreadlocks. It is in fact a nice easy dive for all levels yet still a pleasant and rewarding spot for a little underwater entertainment.
Dreamhouse
Dreamhouse is considered by many as one of the top diving sites in Vanua Levu, due mostly to the pelagic sightings that you can experience here. You will need to drop down quite quickly through the current here to where a wall begins at around 10 metres deep.
Show more
How your guide will plan this dive will depend very much on the conditions. Either you will spend your time casually circling around the pinnacle in the absence of current. In these circumstances Dreamhouse is a leisurely and interesting spot.

The pinnacle is home to all manner of hard corals and sponges. Around the reef dance butterflyfish, parrotfish and damselfish. The jewel in the crown of the pinnacle is probably the blue adhesive anemone upon which scurry a couple of beautiful little popcorn shrimp. This makes such a photogenic scene than if there is more than one photographer in your group they will likely be elbowing each other out of the way to get 'that shot'.

The alternative plan will come into force when the current has kicked up. In these circumstances it is time to pull your head out of that crevice and feast your eyes on the big brutes. Small grey reef sharks at 15 metres or so often herald bigger things to come; and come they often do. Tiger sharks and big schools of hammerheads often appear to set the pulses racing. If you are fortunate oceanic whitetips may also do you the honour of skulking by. Apart from the sharks there are other meaty subjects to admire beyond the soft corals and sea fans including kingfish, jacks and tuna.

Dreamhouse is a Vanua Levu dive worth doing in both sets of conditions but if you only have one opportunity, the site only really lives up to its name when in the company of the magic and pelagic.
Nasonisoni Passage
This channel has more current than a Christmas cake, if you get my drift. This is a real rip-roaring Savusavu dive which you will either love or hate and you should know which before you throw yourself into the mixer. This is not for those who fear a drift dive. You will have no time for moseying around or stopping to look for things like commensal shrimps on whip corals as the current here is in charge.
Show more
If you relax and let the current take you, this can be a great fun ride. You will most likely dive along the north wall here which means the first few minutes will be like the calm before the storm.

The wall itself is carpeted in a vibrant purple of soft coral trees and there may well be trevallies, sharks and barracudas around. There is nothing like the sight of several barracuda hanging in the current with seemingly effortless grace, to make a scuba diver feel like a clumsy rag-doll! The wall drops to well over 50 metres here so be sure to keep an eye on your depth gauge if you want to get closer to the big boys.

Flying along adjacent to the wall there is plenty of colour and fish life to see, although it may be more of a blur and one would not be advised to bring one's camera along to Savusavu's Nasonisoni Passage. As the 2 kilometre long passage comes to an end you can swing into a little sheltered inlet where you can get your breath back and finish the dive in comfort. Here you can at last examine things for more than a nano-second and there are plenty of hard corals and attendant creatures to keep you amused as your heart rate stabilises again.
How to Dive Vanua Levu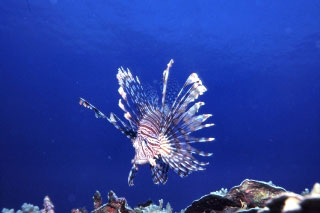 You can visit the best dive sites of the Savusavu area by booking a resort package. What's more, the resorts based here regularly visit Taveuni, and that destination is also built into our diving packages.
The Savusavu Diving Season
You can visit Vanua Levu all year round but the main scuba diving season is from April to October. The months of November, December and January see the most rainfall, with the rainy season extending into March. Visibility is best during Fiji's winter months of July to September when the surface is sometimes choppy and can be as cool as 22°C. During the summer months of November to April water temperature reach 30°C.

Reef Summary
Good for: Large animals, reef life and health, visibility
Not so good for: Snorkelling
Depth: 10 - >40m
Visibility: 15 - 40m
Currents: Gentle in the bay but very strong in the strait
Surface conditions: Calm but can be choppy further from shore
Water temperature: normally 26 - 30°C
Experience level: Beginner - advanced
Number of dive sites: 10
Access: Savusavu resorts
Recommended length of stay: 7 - 10 days
Useful References


---
CUSTOMER TESTIMONIALS OF DIVE THE WORLD
... Dive The World staff were very quick to respond to emails and were helpful and clear in their explanation when questions were asked. I never felt lost and knew everything would be well organized ... -- Marc Wydro, Australia. [More customer reviews]