>
Dive Destinations
>
Fijian Islands
>
Vanua Levu
Diving in Vanua Levu
Dive Savusavu
Vanua Levu is home to the type of diving for which Fiji is famous: fabulous wall, caves and overhangs festooned with all manner of hard and soft corals, a great variety of reef fish as well as jaw-dropping encounters with mighty pelagics. Unlike some other areas in Fiji however, Savusavu diving, accessed from the nearby resorts, has such a variety of sites that there is enough to keep all levels of scuba diver happy during their trip.
Within the relatively sheltered confines of the enormous Savusavu Bay the sites are less demanding but far from uninteresting, whereas beyond, the currents that sweep up through the Somosomo Strait, can increase the dramatic intensity to levels of fever pitch. So it provides a range to suit all levels, from quite easy sites to the more exposed and challenging dive spots. Show more

Dive Site Descriptions for Vanua Levu
Barracuda Point - If you want to find a dive site where you can lose yourself in a mass of barracudas then this is the spot. That said there is more to this site than the huge silvery school that will surround you. Dropping in close to the shoreline near Savusavu, you will begin the dive by descending down a wall which drops to about 18 metres. The wall then swoops out into the sea to a point which has its depth at about 25 metres. As you may guess by the name, it is at the point where the great throng of chevron barracuda are most likely to be found, hovering effortlessly in the current. Show more

How to Dive Vanua Levu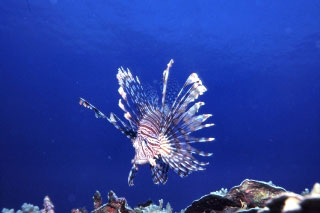 You can visit the best dive sites of the Savusavu area by booking a resort package. What's more, the resorts based here regularly visit Taveuni, and that destination is also built into our diving packages.

Savusavu Diving Season
You can visit Vanua Levu all year round but the main scuba diving season is from April to October. The months of November, December and January see the most rainfall, with the rainy season extending into March. Visibility is best during Fiji's winter months of July to September when the surface is sometimes choppy and can be as cool as 22°C. During the summer months of November to April water temperature reach 30°C.

Vanua Levu Reef Summary
Good for: Large animals, reef life and health, visibility
Not so good for: Snorkelling
Depth: 10 - >40m
Visibility: 15 - 40m
Currents: Gentle in the bay but very strong in the strait
Surface conditions: Calm but can be choppy further from shore
Water temperature: normally 26 - 30°C
Experience level: Beginner - advanced
Number of dive sites: 10
Access: Savusavu resorts
Recommended length of stay: 7 - 10 days
Useful References for Savusavu Dive Trips