>
Dive Destinations
>
Indonesia
>
Gorontalo
Diving in Gorontalo
Tomini Bay, North Sulawesi
Scuba diving was only started here around the year 2000 by an enthusiast who was keen to find a viable alternative to the more established and popular nearby destinations in Sulawesi.
Located on the rugged, northern coastline of mountains and rolling hills in Tomini Bay, Gorontalo not only has similar riches in biodiversity, but it also has its own unique mix of marine life and many species that are endemic to this area. To date 10 new species, some only ever found in Gorontalo, have been internationally recognised and many more are slated for further investigation. Show more

Dive Site Descriptions
Honeycomb - Honeycomb is a west facing, north-south wall covered with porous corals, sponges and pink cupressina hydroids. What makes this site special is the spectacular array of abundant and unusual fish species. For starters, try spotting the blue-headed tilefish. They can often be seen in Gorontalo swimming in pairs and are easily identifiable by their blue heads on an otherwise yellow body with a scissor tail. More difficult to spot is the rare sailfin goby, found mainly on rock ledges. These small grey fish have a semicircular dorsal fin with an orange aura and a dark central spot. The fish also has bright orange bands down its body. Show more

How to Dive Gorontalo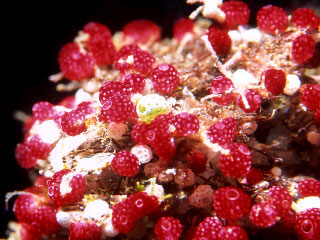 Regretfully, due to the lack of reliable flight operators and regular flights at the time, we have stopped offering diving packages in Gorontalo.
But with only one dive centre operating in Gorontalo, you can sample for yourself this fascinating brand of deep healthy coral walls, wreck diving, pinnacles and bays, in waters that are only crowded by fish. The centre is clled Miguel's Diving.

Gorontalo Diving Season
The Gorontalo scuba diving season runs from November to April. Outside of this time, the winds make surface conditions too unreliable for trips to be guaranteed.

Gorontalo Reef Summary
Good for: Small animals, underwater photography, reef life and health, wall dives and value-for-money
Not so good for: Non-diving activities
Depth: 5 - >40m
Visibility: 20 - 30m
Currents: Gentle
Surface conditions: Calm
Water temperature: 28 - 30°C
Experience level: Beginner - advanced
Number of dive sites: 15
Distance: 230 km west southwest of Manado (1 hour)
Access: Dive resorts
Recommended length of stay: 3 - 7 days
Useful References for Gorontalo Dive Trips