>
Dive Destinations
>
Maldives
>
Northern Atolls
>
Noonu Atoll
Maldives Northern Atolls Dive Sites
Noonu Atoll
...Highlights: shark action, schooling fish & big pelagics...
...Noonu Atoll's diving environment: advanced divers, off the beaten track...
There are many dives in Maldives where you might expect to see sharks but, as with so much of the world's oceans, where sharks once were they are no longer. Many spots in the Northern Atolls enjoy conditions and food sources that one would imagine sharks would indeed find suitable, yet they remain a rarity.
Orimas Thila at Noonu Atoll (also know as Southern Miladhunmadulu) is not one of those sites. This dive begins with a drop down over a reef which meets a sandy floor of 30+ metres. Look out here for eagle rays, as well as soldierfish and blue-lined snapper in quieter areas. Currents will guide you along the side of the reef to where there is a sandy channel.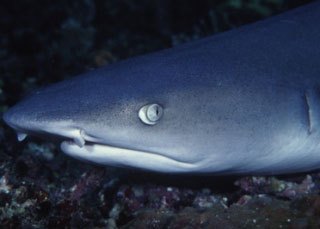 This is usually where the real stars of the show appear: grey reef sharks. They tend to swim in patterns over the top of a second reef and can be viewed from the sandy channel or from a little ledge down-current from them. These areas allow them to continue their natural behaviour which becomes disrupted if you are up-current from them or in the area of the reef they consider to be "their patch".
The best spot is at the ledge down-current from them. From this viewing area you can rest, mostly out of sight and either kneel on the floor, or hook on if there is current, and observe the sharks circling around and sometimes wriggling in response to being cleaned. Seeing 20 or more sharks is not uncommon here and they range in size from juveniles under a metre long to meaty adults of 3 or 4 metres. Several females are heavily scarred from aggressive mating. It is an exciting shark dive by most gauges but particularly so since sharks are so uncommon in many parts of the Northern Atolls. As such, Orimas Thila is a highlight for many people on a scuba diving trip in the Maldives. Show more

Reef Summary: Pinnacle diving
Depth: 12 - 32m
Visibility: 10 -20m
Currents: Moderate
Surface conditions: Can be choppy in southwest monsoon
Water temperature: 27 - 30°C
Experience level: Intermediate
Number of dive sites: 8
Diving season: All year round except June
Distance: 60 km northwest of Kuredu
Access: Maldives liveaboard trip

Useful References