>
Dive Destinations
>
Maldives
>
Southern Atolls
>
Laamu Atoll
Your Guide to Diving at Laamu Atoll
Maldives Southern Atolls Adventures
...Highlights: shark action, turtles, schooling fish & big pelagics...
...Laamu Atoll's diving environment: drift diving, advanced divers, off the beaten track...
Cruising Laamu Atoll, also known as Haddhunmati Atoll, is a diving adventure of discovery. The beauty of the Maldive Islands is magnified in the outer atoll rim reefs due to their secluded location and undisturbed nature. Only 9 dive sites have been officially located yet so there remains many opportunities for more pristine spots to be found along the 48 km coastline. With no resorts on the atoll, you are likely to be the only scuba divers for miles around. Many local liveaboard guides consider this atoll to be the best in the Maldives for large schools of fish. The central lagoon is 73m deep in some places with incredible marine biomass.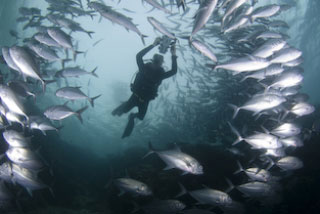 Drift diving the numerous deep passages is the real drawcard at Laamu. Adding to the adrenaline rush, many sharks and rays can be seen hunting smaller reef fish in the strong currents. Smaller reefs in the lagoons are great spots to see abundant parrotfish.
Fushi Kandu is one of the most popular channel sites. Although relatively shallow, it stretches for 250m and whitetip reef sharks are frequent visitors. So too are schools of jacks, as they surge in among tuna and eagle rays.
Parrotfish dart in among the large table corals at Maamendhoo Giri, along with turtles munching on the coral, while butterflyfish swim nonchalantly past. This spot makes a stunning night dive, before a night transfer to the next southern atoll on your cruise.
An exciting drift dive can be had at Munnafushi Kandu. Begin on the open ocean side of this channel and make your way across the channel to encounter rays flying effortlessly on the current and sharks competing for likely prey with the large tuna.
With so much of the reef unexplored at Laamu Atoll, new dive sites of interest are bound to reveal themselves, and possibly even during your Maldive Islands liveaboard trip you will have a chance to undertake some exploratory dives.


Reef Summary: Channels and drift diving
Depth: 5 - 30m
Visibility: 20 - 30m
Currents: Moderate to strong
Surface conditions: Calm but can be choppy
Water temperature: 27 - 30°C
Experience level: Beginner to advanced
Number of dive sites: 11
Diving season: All year round, with the best conditions being from May to November
Distance: 247 km from Male
Access: Maldives liveaboard trips
Useful References


---
CUSTOMER TESTIMONIALS OF DIVE THE WORLD
... Oor (Dive The World) always responded in less than a day so I always felt like our booking was under control. And all my questions were answered (about the dives, the operator, food, visas, everything) so I was completely prepared. They also advertised some aspects on the Dive The World website that other tour providers obviously didn't because we knew about the special meal the boat could do while even some people on their honeymoon weren't aware of ... -- Nadine Llewellyn, Australia. [More customer reviews]