>
Newsletters
>
November 2004
>
An Introduction to Lembeh
Indonesia Diving Newsletter
Lembeh - Strait out of a Fairytale
Are you sitting comfortably? Then let me begin to tell you a tale about a land called Indonesia and magical places with names like Sulawesi, the Lembeh Strait and Manado…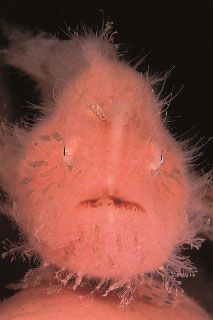 Once upon a time there lived a young man who liked to scuba dive. One day he met a kindly old Bavarian lady who told him, in whispers, of a strange world beneath the sea in a land called Sulawesi. Here, she told him, there were creatures in the water that looked less like fish and more like snakes, mice and birds! So off he bravely set to find this fabled place known as the Lembeh Strait, for he wanted to know if such tales could be true.
Sound like a fairytale? Well so it should, for there is an undeniable magic about the Lembeh Strait, near Manado City, Sulawesi and the assortment of weird and wonderful life-forms that inhabit it.
Muck diving is quickly moving from a fringe aspect of recreational scuba, championed only by photographers, to a mainstream enjoyment of the smaller and more bizarre marine creatures. In only a few days at Lembeh Strait I witnessed many species I had previously seen only in books, and considered them so rare that an encounter seemed unlikely ever to happen. However, in only a few short days, I chanced upon one strange and new creature after another in a series of fascinating dives.
At first, the sight of flying gurnards, flounders, mandarinfish, innumerable new and spectacular nudibranchs and decorator crabs was enough to keep me enthralled. I soon realised however, that these would constitute merely an ever-present supporting cast to cameo appearances by the genuine stars.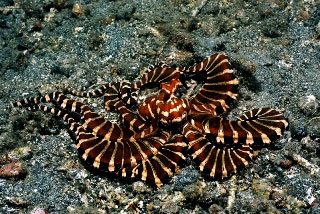 A flamboyant cuttlefish was the first sighting to stir my soul. As a long time fan of cephalopods, this represented something of a holy grail as the tiny, vibrantly coloured specimen pulsated along the sandy floor centimetres from my mask. Bizarre octopus then seemed to line up in order to introduce themselves - first a long-armed variety which swam off like a flounder in the way a mimic does, then a thumb-sized orange starry night octopus and several coconut octopus lurking inside half-buried shells presented themselves, much to my delight.
I began to realise that the dives I was having were stirring emotions in me that I had not felt since taking my first few tentative fin kicks beneath the surface. Remember the first time you ever saw a shark or a turtle? That sense of wonderment and excitement seemed a constant companion in the Lembeh Strait. Diving in this sheltered stretch of water is almost like diving in a lake. The static underwater scenery may consist of uninspiring volcanic sand, but the creatures scuttling around upon it make each dive truly amazing. The quality of night dives here is impossible to overstate. Indeed the term 'muck diving' is much too negative an expression to describe such a joyful experience. 'critter safari' does more justice to the sense of discovery and privilege that one feels when encountering these beings.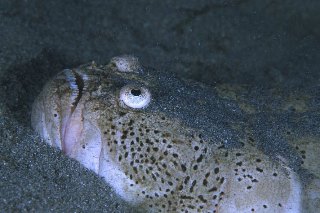 My first sight of a stargazer was one to remember. All but its surface was buried in the sand with its eyes cast solemnly to the heavens. It is easy to see why the Italians call it a 'priest fish'.
Frogfish fans are richly rewarded in the Lembeh Strait as they are so common that they are spotted on almost every dive and in every hue, size and degree of hairiness. Seahorses and pygmy seahorses, kings among undersea treasures in most places, simply join the fantastical role call here. Snake eels are also in abundance and can often be seen having their snouts cleaned as they protrude from the sandy bottom. Countless varieties of lionfish and scorpionfish lurk everywhere in a variety of shapes and sizes, some small, grey and rodent-like, others spectacularly ornate.
Another highlight was an encounter with what really did look like birds that have no place in a watery environment. At one stage I gazed in disbelief as 2 little specimens of Pegasus (sea moths) wandered around the sea bed looking for all the world like a pair of lost sparrows.
I could provide a long list of all the firsts that my few short days in the Lembeh Strait granted me, but with so many and varied highlights, it is easier simply to remember those few days where I really felt like I was in a magical and wonderful place. With the dive operators there striving to protect this fragile and extraordinary stretch of water, I hope that all those amazing and bizarre looking species really can live happily ever after.


---
CUSTOMER TESTIMONIALS OF DIVE THE WORLD
... Prompt response to queries, particularly with regards to requests to the resort for hotel transfers ... -- Theobald Tio, Singapore. [More customer reviews]