>
Newsletters
>
November 2012
>
The Attraction of Wreck Dives
Wreck Diving Newsletter
The Allure and Fascination of Wrecks
When we learn to dive, our first few forays into the underwater world are usually in simple surroundings. A flat sandy bottom with perhaps a few patches of coral dotted here and there or a small wall to help minimise physical inconvenience for the beginner diver. Marvelling at the colours and form of the reef is usually fascination enough and if we see a few fish or other marine creatures then the excitement level ratchets up a few notches.
Then one day you are briefed about diving a wreck. For many divers this opens up a whole new world ...
The Attraction
What is it about diving wrecks that stirs such fascination? As a child you probably learned about pirates and The Titanic and the thought of a ship sinking to the sea floor fills your young mind with a sense of wonder. As you grew you learned about wars and the bombing of boats and sinking of aeroplanes and the interest grew. Then recent events come into focus with overcrowded ferries sinking, normally in less developed parts of the world.
One day these all return to the forefront of your mind when you realise that as an adult, and a qualified scuba diver, these stories can unfold before your very eyes. You can participate in their history, learn more about the human cost and witness them now in their new marine reality. Little did you realise on your first few dives on that sandy floor that such opportunities would present themselves to you, but now they have!
The world is full of interesting wrecks. Many are beyond the depths of recreational diving. Many have succumbed to the marine environment and are little more than scattered detritus. Thankfully there are still innumerable wrecks in water shallow enough to make them awesome dives. The can be divided according into 4 main categories:
War wrecks
Passenger vessels
Transport vessels
Artificial reefs
War Wrecks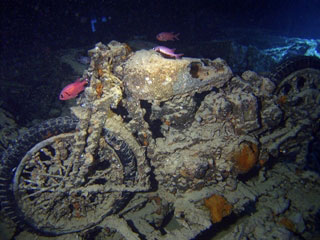 The Red Sea, given its proximity to Europe, is unsurprisingly home to some of the best war wrecks in the world. Most notable is the world-famous SS Thistlegorm, a WWII British army freighter which was bombed and sank in 1940. Still on the wreck and visible today are armoured vehicles, motorbikes and Bedford trucks. No museum can bring you closer to the history of this war than diving here. It is extraordinary.
The Rosalie Moller is another Red Sea victim of German bombing and lies in quite deep water just off Gubal island in the northern Hughada area. It is an adventurous dive and can involve exploring the accommodation and engine rooms, the bomb blast hole on the port side, the galley and life boat deck, and the immense propeller and rudder. The sheltered sections of this wreck are packed full with cardinalfish and glassfish, while yellowtail barracuda and juvenile fusiliers swarm all around the outside. If current permits you can finish this dive by ascending up to the crow's nest and consider how the views from here have changed.
Just off the north-eastern beaches of the paradise island of Bali there lies, in shallow water, The Liberty. The rich waters of Tulamben have turned The Liberty Wreck from a mass of twisted metal into a spectacularly colourful tableau of marine life. Sponges and corals of every bright hue adorn the wreck while coral trout, regal angelfish and surgeonfish abound.
Passenger Vessels
Ferries and other ships whose principal cargo are human beings also litter the sea floor. Some have sunk with great loss of life, other succumbed to the waves after all had safely disembarked. So it was with the Kingcruiser wreck in Thailand, a passenger ferry which sank in 1997 and is now a popular dive site for those diving the Andaman Sea. It is fun to dive here and marvel at the abundant fish population.
By complete contrast, the Salem Express in the Red Sea cannot really be described as fun. It went down in 1991, overcrowded with hundreds of pilgrims returning from Mecca. There was huge loss of life and the scattered personal belongings tell of the tragic nature of what happened just a few metres below the surface. To dive here is both chilling and saddening.
Belize's Sayonara Wreck sits next to a beautiful Caribbean reef with large coral pinnacles rising up behind it making a stunning backdrop. This rapidly deteriorating wooden ship went down in 1985 and is home to shrimps, clams and starfish making it a great site for macro photography.
Dive The World's passenger vessel wreck recommendations:
Transport Vessels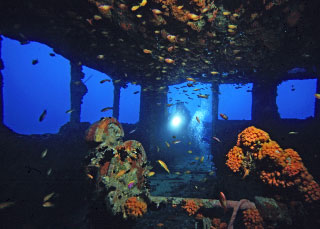 Ships that transport goods are the most numerous sea-faring vessels. It is little wonder that so many of them met with a watery grave and can now be enjoyed by curious bubble-blowing land mammals. The Maldives Victory was defeated by the sea in 1981 and has gone from providing tourists with food to providing them with a first class wreck dive site. At the perfect depth of between 12 and 25m, you can enjoy both the encrusting sessile life and the resident fish including large groupers and puffers, lionfish and hawkfish as well as the occasional turtle.
Some transport vessels sank as far back at the 1800s, such as the Ulysses in the Red Sea. Downed in 1887 after hitting the reef, this wreck is so old that it has become a complete part of the marine world. Entirely covered in sealife, you can still see its man-made shape now colourfully bejewelled in corals, sponges and gorgonian fans. While crocodilefish and seahorses might be among the creatures to peer at, pods of dolphins may also frolic around in the blue.
Dive The World's transport vessel wreck recommendations:
Artificial Wrecks
Given the wondrous addition that wrecks make to the experience of diving, it is little wonder that the scuba diving industry has seen fit to purposefully sink boats and thereby create strata on which life can flourish, new shelter for fish populations and of course new dive sites.
Fiji is one place where there is so much richness of life, it being the 'soft coral capital of the world', that is seems odd to have sunken a boat to act as an artificial reef. In 1994 a tanker called The Pacific Voyager was sunk near Kadavu. It acts as shelter to creatures who might not otherwise flourish on the more perilous open reef. Nudibranchs and sea slugs abound as do many juvenile species such as the descriptively named humpnose big-eye bream.
Typical of artificial reefs, the Jetty Reef in Lankayan is an addition which brings a little something different to a dive destination. While many dive sites can appear similar, a wreck always has its own unique character and its structure brings life. Here a simple fishing boat (and nearby artificial wreck structures) provide a home for schools of batfish and jacks, plus blue spotted stingrays and cuttlefish.
Dive The World's artificial wreck recommendations: