>
Reefs & Parks
>
Indonesia: Komodo Fish Culture Project
The Komodo National Park
Fish Culture Project
The Nature Conservancy's Coral Triangle Centre has successfully handed over its fish culture project to an experienced Indonesian enterprise, PT Karamba Mertha Buana. This company has the necessary technical know-how, financial capability, willingness to work with local communities, and ultimately to meet the original objectives of transforming this Komodo project into a profitable and environmentally sound business, bringing income to local communities.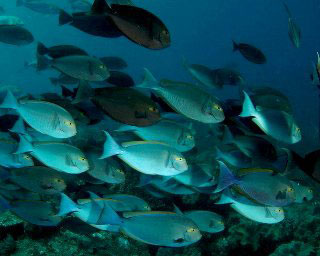 Since taking over the project, PT Karamba is setting down the foundation for boosting production of fish fingerlings. The company will initially concentrate on 3 species: mouse and tiger grouper, and the company explores culture of one additional species, coral trout. Sterilisation of the entire hatchery has been carried out to ensure the health and quality of the fingerlings. Further training to technicians - who previously were under the employment of the Conservancy - is given in order to master new technology; as well a modification of some of the equipment. Karamba is also involving community-based grow-out groups to grow fingerlings to a weight of around 50-100 grammes.
PT Karamba pioneered the growing out of mouse grouper in Eastern Indonesia. The company's fish expert was also heavily involved in the setting up of Indonesia's leading fish research institute, Gondol Research Institute for Mariculture, in Bali. PT Karamba has succeeded in marketing mouse grouper at 30% higher prices. The company strongly believes that a long-term and trustworthy relationship is an absoloute necessity when forming partnerships with the fishermen and communities local to Komodo Island without whom these projects would be doomed to failure.
Project History
1997: Pilot assessments
1997-1999: Gango pilot
1998-2002: Broodstock collection
2000: Hatchery feasibility studies
2002: UKL/UPL (impact assessment)
2002-2003: Hatchery construction
2003: Memorandum of Understanding signed between the Conservancy and Research Centre Institute of Aquaculture
2003: Hatchery inaugurated by Minister of Marine Affairs and Fisheries, Dr. Rokhmin Dahuri (July)
2003: Warloka village grow-out unit
2004: First batch of grouper sold (June)
2004: Menjaga village grow-out unit
2004-2005: Identification of business partners
2005: Transfer to PT Karamba (July)
Location: Loh Mbongi, Flores, East Nusa Tenggara, Indonesia
Species cultured: Tiger grouper, mouse grouper, estuary grouper, mangrove jack and Asian sea-bass
Partners: Komodo National Park Authority; Directorate General of Forest Protection and Nature Conservation; District Governments of West Manggarai and Manggarai; Gondol Research Institute, Dept. of Primary Industries, Queensland; Network of Aquaculture Centres in Southeast Asia (NACA)
Connecting Government Agencies, Communities, NGOs and Businesses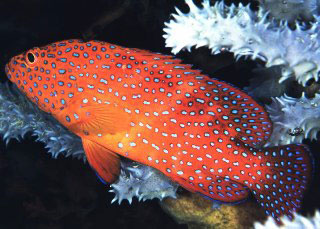 The Conservancy started the Komodo Fish Culture Project in 1998, working in close coordination with the Komodo National Park Authority and the District Governments of West Manggarai and Manggarai. In March 2003, the Conservancy established the hatchery facilities in Loh Mbogi to:
Provide fishers in and around national park with an alternative livelihood, so that they were not reliant on destructive fishing practices for income;
Demonstrate how a 'full-cycle' mariculture (from larvae as opposed to grow-outs from wild-caught juveniles) should be conducted to high conservation standards;
Supply fish cultured to the live reef fish food trade; and
Ultimately pass on operation to a mariculture business venture who would take it to scale under environmental and conservation criteria monitored by the Conservancy.
The hatchery has also served as an excellent training ground for fishery high-school students, whereby around 5 groups of students from the neighbouring town of Sape have stayed at the hatchery for 3 -month periods. Here, students were trained and had the opportunity to be involved in the day-to-day operations of the hatchery.
A designated Man and Biosphere Reserve and World Heritage Site, Komodo National Park is one of the world's most biologically diverse and productive marine environments. The park encompasses 1,817 km² and is home to 1,000 fish species, 260 reef-building coral species, giant clams, lobsters, turtles, whales and dolphins.
For further information, please contact:
The Nature Conservancy
Coral Triangle Centre
Jalan Pengembak No. 2
Sanur, Bali, 80228
Indonesia
tel +62.361.287.272
fax +62.361.270.737
email info@coraltrianglecenter.org
www.coraltrianglecenter.org | www.nature.org | www.komodonationalpark.org | www.iucn.org/themes/wcpa/biome/marine/seasia/seasia.html
Useful References


---
CUSTOMER TESTIMONIALS OF DIVE THE WORLD
... Boat and equipment reservations were made promptly. Changes to the hotel information and pickup information were communicated to the boat, the boat pickup was on time and in the agreed upon place ... -- Drew Rose, USA. [More customer reviews]