>
Dive Destinations
>
Maldives
>
Northern Atolls
>
Raa Atoll
Your Guide to Raa Atoll
Maldives North Dive Adventures
...Highlights: schooling fish & big pelagics...
...Raa Atoll's diving environment: caverns, beginner and advanced divers, off the beaten track...
Raa (also known as Northern Maalhosmadulu) is a mainly uninhabited atoll located in the northwest of the Maldives and most divers that visit Raa Atoll stay in well-to-do luxury resorts. However, the area's thilas and farus are also often on the itinerary of liveaboard cruises in the Northern Atolls dueing the northern hemisphere summer and autumn months. They do so to enjoy the huge volumes of fish at several of the sites.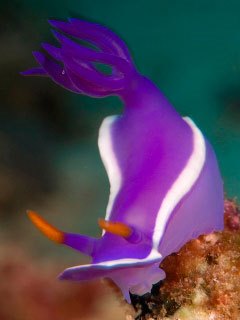 A Giri is a shallower version of a thila. Thilas are sufficiently below the surface for fishermen to be able to pass over the top without fear. Gilas are too shallow and can sometimes break the surface. Fenfushi Giri at Raa Atoll features a number of overhangs as tends to characterise this area of Maldives. Look out for stingrays and Napoleon wrasse lurking on the sandy ledge below the largest overhang. After inspecting this overhang, divers usually proceed to a sloping reef with plenty of hard corals, sea whips and fish life. Expect to see butterflyfish, parrotfish, bannerfish and lots of fusiliers, unicornfish and surgeonfish all around you.
In an unusual feature, the slope then gives way to a large area of dead coral. This is seemingly the result of natural causes. It has been like that for a considerable time and no-one knows why. Yet life still finds a way here, since the nooks and crannies and patches of sand provide a good habitat for some species, including red fire gobies, as well as shrimp and goby partnerships. If you are lucky you might encounter one or two mantis shrimps darting around or peering out of their holes with their independently moving eyes.
The dead zone ends with a wall covered in whips, black coral bushes and tubastrea corals sheltering schools of orange basslets and fairy basslets. As you ascend towards your safety stop towards the top of the giri, there are plenty of large table corals, swarms of fairy basslets, hunting jacks, tuna, and blue-dash fusiliers. There can be quite a strong current here so you may find, particularly over the top of the giri, that it is a good time to use a reef hook and just relax and watch the goings-on.
Reethi Thila represents a dive that is typical of Raa Atoll: a submerged pinnacle with plenty of caverns and overhangs and with a stunning number of fish. While the coral coverage here (and in the Maldives generally) is not the best you will ever see, what is noteworthy is the volume and variety of fish life; enough to stretch even the most ardent fish identification enthusiast.
By way of example, here is a brief list of some of the wrasses that you are likely to encounter on this dive site: African, Ringed, Reindeer, Lemon Meringue, Speckled, Blue-streak Cleaner, Bird, Six-bar, Half-and-half. We prefer to avoid lists of fish but the variety here calls for an exception to that rule. A similar list could be compiled for angelfish, surgeonfish and triggerfish, such is the sheer quantity of fish and the species variety at this Raa Atoll diving spot and this area of the Maldives generally.
Having feasted your eyes on the fish diversity that can be so overwhelming here, you can enjoy some down time in the sandy areas of the reef flat where you should look out for mantis shrimp, nudibranchs and even some playful octopus.

Reef Summary: Pinnacle diving
Depth: 12 - 32m
Visibility: 10 -20m
Currents: Moderate
Surface conditions: Can be choppy in southwest monsoon
Water temperature: 27 - 30°C
Experience level: Intermediate
Number of dive sites: ~10
Diving season: All year round except June
Distance: 80 km west of Kuredu
Access: Maldives liveaboard or resort vacation
Useful References


---
CUSTOMER TESTIMONIALS OF DIVE THE WORLD
... I have previously booked all my diving trips with you all so I guess I should be quite satisfied with the services. The fact that the speed of email reply and the pace of the booking is done is really cool for people like me who like to book my holidays during the eleventh hour ... -- Hsien Chee Tan, Malaysia. [More customer reviews]