>
Dive Destinations
>
Maldives
>
Northern Atolls
>
Baa Atoll
Maldives Northern Atolls Dive Sites
Baa Atoll
...Highlights: whale sharks, manta rays, schooling fish & big pelagics...
...Baa Atoll's diving environment: healthy reefs, beginner and advanced divers, off the beaten track...
Back-rolling in to the invitingly warm water of Maavaru Kandu at Baa Atoll (a.k.a. Southern Maalhosmadulu), you will sink down initially to the top of the reef at around 8 to 9 metres where ideally you will encounter a gentle current. As with many of the dive sites in Maldives, there are plateaus and overhangs cutting into the side of the reef, but this site promises something exceptional.
Every inch of the overhangs which face downward are bedecked in a rainbow of soft corals illuminating the reef in pastel shades of predominantly blue and yellow but also green and mustard. The sight is one of delicate beauty with the delightful colours seeming to glow brightly against the dull shade of the rocky substrate.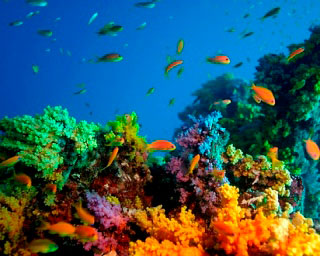 The overhangs here are huge and you can get right in and fin along while marveling at the overhead spectacle. The reef also hosts whip corals, brick red sponges, black coral bushes and many zoanthids. Between the overhangs and where the reef flattens out toward the end of the dive, there are more fans of a respectable size and plenty of hard corals: table, stony and mushroom coral.
Fish life includes midnight snapper, small-toothed emperor, coral rock cod, moon fusiliers and broad-striped fusiliers, while the shallows play host to thousands of orange basslets as well as moon wrasse and lizardfish. However, it is for the quantity of brightly-coloured pendulous soft corals that this site will live in the memory of scuba divers.
Dhonfanu Thila consists of a pinnacle which comes to a point and faces into the prevailing current. The current splits at the point and runs down either flank of the reef so you will normally drop in advance of reaching the thila so that as you descend and allow the current to bring you to the point of the reef at about 22 metres. Look of for manta rays here. Baa Atoll is well known for them and this is one site where they are seen regularly.
After a few minutes you will see the base of a swim through at 25 metres which you pass and ascend to around 18 metres to find its entrance. The swim-through is quite narrow so care must be taken to pass through, doing no more than brushing past some black coral bushes. Show more

Reef Summary: Submerged pinnacles and overhangs
Depth: 8 - 32m
Visibility: 10 - 30m
Currents: Moderate
Surface conditions: Usually calm but can be choppy in southwest monsoon
Water temperature: 27 - 30°C
Experience level: Beginner - Intermediate
Number of dive sites: ~30
Diving season: All year round except June
Distance: 80 km southwest of Kuredu
Access: Maldives liveaboard tour

Useful References