>
Dive Destinations
>
Maldives
>
Northern Atolls
>
Baa Atoll
Your Guide to Diving in Baa Atoll
Hanifaru Bay Dive Adventures
...Highlights: whale sharks, manta rays, schooling fish & big pelagics...
...Baa Atoll's diving environment: healthy reefs, beginner and advanced divers, off the beaten track...
Baa Atoll is an administrative division in the west chain of the Northern Atolls of the Maldives, and is actually made up of 3 atolls - Southern Maalhosmadulu, Fasdhuthere, and Goifulhafehendhu. It consists of 75 small islands, spread over more than 1,000 sq km and split by the Kudarikilu Kandu channel. There are over 100 coral reefs at Baa, mangrove stands, and the UNESCO World Biosphere Reserve of Hanifaru Bay, and the scuba diving and snorkelling opportunities here are exceptional, especially during the months from May to December.
Back-rolling in to the invitingly warm water of Maavaru Kandu at Baa Atoll (a.k.a. Southern Maalhosmadulu), you will sink down initially to the top of the reef at around 8 to 9 metres where ideally you will encounter a gentle current. As with many of the dive sites in Maldives, there are plateaus and overhangs cutting into the side of the reef, but this site promises something exceptional. Every inch of the overhangs which face downward are bedecked in a rainbow of soft corals illuminating the reef in pastel shades of predominantly blue and yellow but also green and mustard. The sight is one of delicate beauty with the delightful colours seeming to glow brightly against the dull shade of the rocky substrate.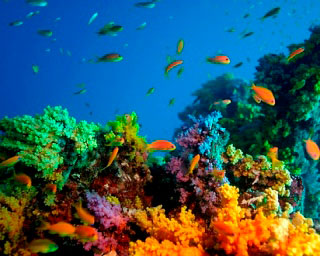 The overhangs here are huge and you can get right in and fin along while marveling at the overhead spectacle. The reef also hosts whip corals, brick red sponges, black coral bushes and many zoanthids. Between the overhangs and where the reef flattens out toward the end of the dive, there are more fans of a respectable size and plenty of hard corals: table, stony and mushroom coral.
Fish life includes midnight snapper, small-toothed emperor, coral rock cod, moon fusiliers and broad-striped fusiliers, while the shallows play host to thousands of orange basslets as well as moon wrasse and lizardfish. However, it is for the quantity of brightly-coloured pendulous soft corals that this site will live in the memory of scuba divers.
Dhonfanu Thila consists of a pinnacle which comes to a point and faces into the prevailing current. The current splits at the point and runs down either flank of the reef so you will normally drop in advance of reaching the thila so that as you descend and allow the current to bring you to the point of the reef at about 22 metres. Look of for manta rays here. Baa Atoll is well known for them and this is one site where they are seen regularly.
After a few minutes you will see the base of a swim through at 25 metres which you pass and ascend to around 18 metres to find its entrance. The swim-through is quite narrow so care must be taken to pass through, doing no more than brushing past some black coral bushes.
Overhangs provide shelter for yellow-lined snapper and soldierfish in big numbers. Often there are a lot of cleaning wrasses around so expect to see plenty of skin treatments being administered. The site is also home to an unbelievable number of fish: red toothed triggers, black pyramid butterflyish, parrotfish, angelfish, very longnosed butterflyfish, unicornfish and starry rabbitfish among hundreds of species.
Another feature of this Maldives dive will be that you will see a continuous series of cascading moon fusiliers and broad-striped fusiliers spilling around all over the edges of the reef. Dhonfanu Thila hosts a wealth of life, with more biomass than the eye can take in. With its interesting topography, abundant life and manta ray appearances, this site showcases the best of Baa Atoll and the Northern Atolls as a whole.
Dhigali Haa is a submerged pinnacle, the top of which rises from depth to about 7 metres, and there a couple of smaller pinnacles to the western edge of the thila which are also worth exploring. As you empty your BCD and dive down in the water column here, you will likely be greeted by lots of big-nosed unicornfish who seem to enjoy playing in the chimneys of bubbles your exhalations create. Inverting yourself you can see how they rush in seemingly just for the fun of feeling the bubbles tickle their skin.
Also off the reef are legions of blue-dash fusiliers, jacks and trevallies which can be seen hunting the small bait fish that swarm in huge numbers around the quieter sections of this Maldives dive site. The quieter areas are also home to yellow-lined snapper, small fans, and scribbled filefish.
Underwater photographers can take 'arty' shots of spiral whip corals, or anemones playing host to pairs of porcelain crabs sweeping plankton towards their mouths with their array of evolutionary devices for so doing. Look out for the Maldivian sponge snail (Coriocella hybyae) here. It is an unremarkable looking snail which could be described in scientific terms as "a dark, knobbly blob". But it is an endemic species to Maldives that moves at around a centimetre a day, so is a good subject for even the slowest of amateur photographers.
The top of the thila also has plenty of action with innumerable anthias, basslets and dottybacks holding firm in the current. As with much of this area the sessile life is quite small with no big barrel sponges or large fans. These are more likely to be seen in the channel walls where the big current sweeps are, rather than sites such as this, within the atolls.
Baa Atoll also boasts 2 marine protected areas that are renowned for excellent whale shark encounters. One of these is at Hanifaru Bay on the east side of Baa. This is a relatively small bay on an uninhabited island which has become known the world over as an amazing spot for experiences with both whale sharks and manta rays. Photographers flock here at this time to take the kind of breathtaking underwater images that few places on earth can promise.
From May to December, vast numbers of these 2 filter feeders aggregate here to gorge themselves on the enormous zooplankton blooms that occur each year at this time. Hanifaru Bay is considered to be the world's largest manta ray feeding station. While you may be accustomed to seeing manta rays feeding in a patterned behaviour of barrelling or swimming near to the surface or substrate, you will see other behaviour here too. Due to the sheer number of mantas and the bonanza of food in the water, the rays seem to forget such orderly behaviour and charge around bumping into each other in a veritable feeding frenzy.
Current regulations (at the time of writing) only allow snorkeling and visitors are limited to 60 persons at any one time. Baa Atoll and other nearby atolls also have great dive sites so many liveaboards include snorkelling at Hanifaru Bay in their cruise itinerary to the Northern Atolls during these months.

Reef Summary: Submerged pinnacles and overhangs
Depth: 8 - 32m
Visibility: 10 - 30m
Currents: Moderate
Surface conditions: Usually calm but can be choppy in southwest monsoon
Water temperature: 27 - 30°C
Experience level: Beginner - Intermediate
Number of dive sites: ~30
Diving season: All year round except June
Distance: 80 km southwest of Kuredu
Access: Baa Atoll liveaboard tour
Useful References


---
CUSTOMER TESTIMONIALS OF DIVE THE WORLD
... Very good service, very patient and flexible - provided every opportunity for me to book and pay. Also good range of dive boats, and knowledgeable about them. Main thing is that the booking was made really easy and you delivered! ... -- Karen Whitham, Australia. [More customer reviews]