>
Dive Destinations
>
Maldives
>
Southern Atolls
>
Meemu Atoll
Your Guide to Diving at Meemu Atoll
Southern Maldives Adventures
...Highlights: whale sharks, shark action, manta rays, turtles, schooling fish & big pelagics...
...Meemu Atoll's diving environment: drift diving, advanced divers, off the beaten track...
Visit the crystal clear waters at Meemu Atoll, also called 'Mulaku' by the locals, and you are almost guaranteed to see manta rays on every dive. The eastern and western rims are characterised by deep channels, known as 'Kandus', with currents that sweep in plankton-rich water, sustaining healthy soft corals and thriving marine life.
Large numbers of a variety of pelagics populate the channels. In addition to manta rays and the occasional appearance of a magnificent whale shark; grey reef sharks, mobulas and eagle rays can be spotted almost everywhere.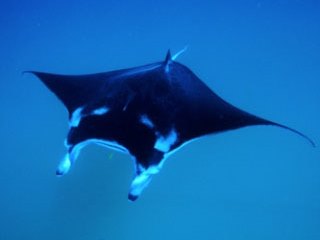 The Mulaku Kandu channel in the north east is peppered with submerged pinnacles covered in predominantly soft corals. Dive in at the west corner to be surrounded by snappers and jacks. Keep an eye out for rays and sharks as you descend to 30m. Then, if there is an outgoing current, allow it to carry you north along the reef until you reach an overhang rich in soft coral. The wall below is home to moray eels, while sting rays sleep in the depths and groupers look for snacks in the coral formations.
To dive at Medhufushi Thila, you descend through the warm, clear waters of a north eastern channel situated between 2 wide lagoons, which is the only access and exit point to this site. Dolphins might accompany you to the start of your dive on the northern side of the thila. Peaking at 4m below the Indian Ocean's surface, the thila is covered in a colourful selection of hard corals. You could descend to as low as 35m to take a look at the steep wall with overhangs, but remember to save bottom time to scout out the caves and marvel at the countless reef fish.
The current is virtually non-existent here, making it one of the few Southern Atolls sites that are suitable for scuba divers of all skill levels. You will not be disappointed with likely sightings of reef sharks, tuna, manta rays, whale sharks and schools of trevallies.
Mantas and More definitely lives up to its name with an amazing diversity of sea creatures, including the eponymous manta rays. Wave back at the lobsters living in cracks along the coral walls as you drift with the changeable current. Napoleon wrasse and turtles feed on the corals while large shoals of jacks play in the current avoiding the abundance of barracuda.
It is not uncommon to see 8-9 manta rays swoop in the blue, together with numerous mobula and eagle rays. Tuna search for their next meal along with loads of grey and white tip reef sharks. You might even see a feeding frenzy develop overhead.
Liveaboard cruising at Meemu Atoll means you will often be diving at unspoilt sites that have seldom or never been visited before.


Reef Summary: Channels, submerged pinnacles, walls and overhangs
Depth: 5 - 35m
Visibility: 20 - 30m
Currents: Moderate to strong
Surface conditions: Can be choppy
Water temperature: 27 - 30°C
Experience level: Beginner to advanced
Number of dive sites: 25
Diving season: All year round, with the best conditions from May to November
Distance: 130 km from Male
Access: Maldive liveaboard tours
Useful References


---
CUSTOMER TESTIMONIALS OF DIVE THE WORLD
... Most helpful at every stage and answered all questions promptly and accurately which set my and my wife's mind at rest. Jamie's service pretty much helped us decide that we would go with Dive The World rather than any other ... -- Alistair Brown, United Kingdom. [More customer reviews]