>
Newsletters
>
September 2006
>
Adventure Komodo Liveaboard Trip
Komodo Liveaboard Newsletter
Diving and Dragons in Indonesia
The diving in the Nusa Tenggara and Irian Jaya regions of Indonesia is widely regarded as some of the best in the world. This rich marine habitat is the epicentre of species diversity where new discoveries are still regularly made. It's an ocean playground of over 18,000 islands spread over more than 5,000 km.
Part of the reason that the reefs here are so pristine is their inaccessibility. Few boats venture into these areas. The MV Adventure Komodo is one that does. This ultra modern 23 metre aluminium catamaran, with a cruising speed of 15 knots and a range of 1,500 nautical miles can cover big distances and was designed for comfort. The boat spends half the year in west Sumatra running surf charters and the other half of the year it plies the waters of Irian Jaya taking divers to some of the best dive spots on the planet.
I joined the boat on her first dive trip of the season in November 2005 which was essentially a transit trip from her base in Bali, travelling east to Kupang in West Timor. It was a 2 week trip with great diving all the way. We covered a lot of miles so I was glad to be in such a modern and well equipped vessel. Actually, I knew from the off that I would be happy onboard when, shortly after boarding, while making myself comfortable in my cabin, the ships chef knocked on my door to ask me how I wanted my steak cooked for dinner. I've always been of the opinion that one of the most important things about any liveaboard trip is the quality of the food. Well-fed divers are happy divers and the first night's dinner was just the start as far as the great food was concerned.
Dinner was a chance to get to know the other guests onboard. Conversation was relaxed and easy, probably helped by the complimentary wine. The owner of the Adventure Komodo also owns an award winning winery in Australia so the wine flowed freely (literally) all trip.
Our cruise director was Larry Smith who, for many, will need no introduction. If you haven't heard of him, a quick Google search will list his achievements. A large charismatic Texan with an unparalled enthusiasm for diving, he is credited with discovering much of Indonesia's best diving and introducing it to the world. For example, he started muck diving at the Lembeh Strait when dive operators around the coast at Bunaken thought that he was crazy. Now, 10 years later those same operators make regular trips the dive sites that Larry found, named and made famous. As I was to discover on this cruise he has enough stories to keep you entertained for as long as you want to listen and his commitment to his guests' happiness is at a level higher than I've ever experienced.
Our first night aboard was spent cruising to Sumbawa and we awoke at Satonda Island to the first of many stunning views that we would have along the way. This one was of Mount Tombora, a volcano that last exploded in 1815 with 20 times the force of Krakatoa, instantly killing 28,000 people and altering the earth's climate for a whole year. One of Adventure Komodo's nicest features is its saloon which has huge wrap-around windows on 3 sides giving about a 270 degree angle of view so, when you're sitting eating, chatting or just relaxing on the sofas with a book you can look up and take in the scenery.
We did 4 dives around Satonda on our first dive day and still found time for a short land trip to visit a sacred lake in the middle of the island. Local legend, at least according to Larry (although it could be one of his Texan tales) says that tying a stone to the sacred tree by the lake brings good luck. Before you can tie up the stone though, you must first cleanse yourself in the lake, which is supposedly inhabited by a giant sea serpent. Well, we cleansed, and we tied and we made our wishes for good luck on our trip. Luckily we all survived the sea serpent's clutches this time and feeling suitably blessed we boarded Adventure Komodo for the onward journey to the north west Komodo diving region.
Once there, we dived sites called the Menjang Wall and the Black Forest around Sangeang Island. We were lucky that the currents weren't too strong for our dives because often they rip through the island channels where the South China Sea and the Indian Ocean suddenly meet. The lack of currents may well explain why we didn't see so much big fish action as the big fish normally come with the fast water. This is an area renowned for manta ray sightings but alas for us it wasn't to be. I contented myself with the beautiful soft corals and some critters like demon stingers and a couple of harlequin shrimps.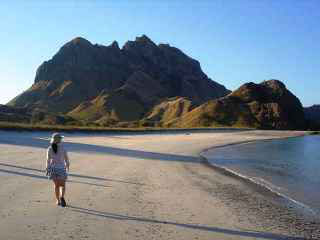 The following day currents picked up at one of North Komodo's most famous sites, GPS Point. This submerged pinnacle (located by GPS, hence the name) just off Banta Island is notorious for its wicked down currents and Larry briefed us to follow our guides closely so that we stayed in the right areas. The life on the reef here was top notch with schools of fusiliers, surgeonfish and sweetlips teeming all over the coral wall. Giant trevallies patrolled the blue water, keeping the schools alert with their darting attacks which I often found myself in the way of. White-tip reef sharks, ever cautious of divers, glided around in the deeper parts. We had a hawksbill turtle for company on our safety stop as we clung to rocks in the current although our presence on his reef was of little interest to him.
The manta rays eluded us for another day however so it was with much excitement that I was woken on day 5 by a call that mantas were swimming around the boat and we were quickly up and into the water to swim with these graceful giants. Many superlatives are used to describe these amazing creatures and I've had the fortune to dive and snorkel with them on numerous occasions but the thrill never fades and I can't think of a much better start to the day.
I was especially pleased to see mantas after 2 days of disappointment because I had been warned that most of the oceans big players had been fished out of Indonesian waters. Although over fishing is clearly a problem that Indonesia, like the rest of Asia, is struggling with, this day showed that there are still plenty of big fish here. A huge school of humphead parrotfish cruised past us at Ikelike Reef. Pink Beach and Crystal Bommie both had reef sharks and giant trevally. An unusual coral cat shark topped the day off at Pink Beach (yes the sand really is pink).
We skipped our early morning dive on day 6 to go onto Komodo Island. One of the special features of the Adventure Komodo trips is that Larry Smith works hard to let you see the real Indonesia above the water as well as below. It's a country that he loves dearly and he shares that with his guests.
The stark brown mountains of Komodo are a UNESCO World Heritage site and are home to about 2,000 Varanus Komodoensis or, as they are more commonly known, Komodo dragons. Reaching up to 2.5 metres in length and weighing up to 125 kilos, they are the world's largest lizard. While our crew took care of the Komodo marine park fees at the park HQ we followed a park ranger armed with a forked stick on an 8 km walk around the island to spot the dragons. Some guests even bought a lizard back with them. That is, the small wooden carved variety sold by the young boys at the pier. From Komodo we sailed onto Rinca and into Horseshoe Bay at the south of the island. The entrance to the bay is stunning with the lush green mountains on all sides so different from the barren rocks of Komodo. We soon found out why it was so green here as the heavens opened and gave us a 30 minute tropical downpour.
Horseshoe Bay would be our home for the next 3 nights and for me it was the best location of the trip. For one thing, our mooring was just 50 metres from the beach so that every meal in the Adventure Komodo saloon gave us an uninterrupted view of the natural action taking place there. This was one busy beach with eagles, wild pigs, monkeys and Komodo dragons all scavenging for food. We were the only dive boat around which is a major plus to diving in Indonesia, no crowded dive sites here. A few small outrigger boats would join us in the bay occasionally but other than that it was just us and the dolphins that would appear around us in the morning. One morning, after the first dive, I grabbed a rope that was fed out behind the tender and was towed into a pod's path, snorkel in mouth, watching the dolphins below as they looked curiously up at me. There is something indescribably special about interacting with dolphins in their natural environment and it's an experience that I'll never forget.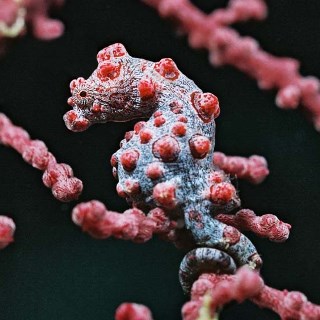 The diving in Horseshoe Bay was every bit as good as the topside scenery. At the Yellow Wall Of Texas I saw 2 pigmy seahorses, one of which was a heavily pregnant male. Crinoid Canyon at Nusa Kode was a magnificent wall of crinoids and colourful corals. Giant grouper, clown triggerfish, and longnose hawkfish were the highlights for me but the marine life is rich enough to have something for everyone. The water is pretty chilly here as cold currents come up from the deep so I was glad of my hood and the Adventure Komodo dive deck hot water showers.
Cannibal Rock is another dive site with something for everyone from whitetip reef sharks and turtles to giant frogfish and zebra crabs. Bright red and purple sea apples add a splash of colour. Torpedo Alley is a good day dive and a great night dive. In 1 dive I saw 3 torpedo rays, a pink frogfish, a candy crab, a sea horse, a crocodile fish and a clown nudibranch (gymondoris). It doesn't get much better.
Day 9 saw us arrive in Flores after sailing through the night again. This was certainly an unusual day of diving but was my favourite while in Flores. The first dive was on the Wai Terang, a Japanese freighter wreck up the coast from Maumere. The rest of the dives that day were under the 2 piers in Maumare harbour. It seemed a pretty strange place to be. Having travelled a very long way to dive in beautiful tropical Flores, I now found myself finning between concrete pillars, rusting metal and old truck tires. I don't know who first thought to explore under the piers but it was an inspired decision by someone with a nose for the unusual because the shear number of critters living here make these piers awesome dive sites. Nudibranchs were everywhere and there were frogfish and leaf fish trying to hide on the pillars. Stinging catfish swarmed in every dark crevice.
One diver commented that, given the amount of prime real estate in the form of beautiful coral reefs that Indonesia has to offer, why would any fish choose to live in this slum. Well, it takes all sorts and I guess; pegasus seamoths and mandarinfish just don't care. The seamoths were near impossible to spot on the rubble bottom. The mandarin fish came out in numbers at dusk, including a new species, recently discovered by Eddie Frommer of the MY Pindito. That's the beauty of Flores diving, new discoveries are just around every corner. Upon surfacing we found that we had become the unusual species ourselves, as the locals looked down from the pier at the mad rubber clad bubble blowers.
The diving around North Flores was better than I imagined that it would be, given the earthquake of 1992 and the resulting tsunami. I saw a couple of eagle rays at Pangah Batang and the wall at Babi Island was pristine despite being in an area where 1,000 people lost their lives when the tsunami engulfed it. We saw blue spotted sting rays out in the sand along with the by now regular sightings of whitetips. Parrotfish, sweetlips and grouper were among the reef fish present as we drifted along the wall in the swift current. Towards the end of the dive we spotted the unusual sight of 2 ribbon eels sharing the same hole.
Serbete Island in East Flores was another pretty wall but reef life was less than prolific here so we chose to explore nearby at a site that none of the Adventure Komodo staff had dived before. We descended on the edge of a small mangrove swamp. My guide assured me that he'd never seen a crocodile here but that didn't really settle my nerves and it looked like perfect croc territory to me. It was the muckiest of muck dives. With exploration dives you take a chance and you never know what you'll get. This site won't make it into any top 10 best dive site lists but we did see a leaf fish and lots of nudibranchs. I skipped the night dive, this was day 10 and my body needed a rest. Instead I had a glass of red wine and waited for dinner which tonight was venison imported from Australia. How many liveaboards have you eaten venison on? This was living at its best.
On day 12 we were given the choice of diving a known site called Magic Log or exploring somewhere new around Andonara Island. Despite the previous days lack of success half the boat, including myself, chose to explore. The school of chevron barracuda that checked us out as we descended was a good sign. The reef was patchy coral with lots of sand in between. Then at 19 metres along a small ridge we hit the jackpot when Ali, our guide, found a weedy scorpionfish (rynopia) sitting next to some encrusted sponge. This is the holy grail of reef critters and had been the topic of conversation at several meals on this trip. It was the one thing that most of us had never seen and was top of our lists. Several underwater "high 5"s later and with photos taken, our computers told us that it was time to ascend. At breakfast our plans to move on were quickly changed as we decided to dive the same place again so that the other group could see the rynopia.
The village of Lamakera on Andonara Island was another interesting land excursion. Andonara means 'brothers' blood' in Bahasa and our guidebook warned us that this island had the most violent locals in all of Indonesia. That certainly wasn't our experience. The local children obviously don't see too many white faces here because they swamped around us, laughing and singing the second that we stepped foot on the jetty. The village is a traditional whaling community, 1 of only 2 left in Flores but the industry is slowly dying out here. Photos were taken, sarongs were bargained for, and then it was back on the boat and off to Lembata Island where we moored just off the other whaling village of Lamalera.
While some chose to visit the village, most of us went diving around the headland. I wished that I'd had more time here because the dive site warranted much more exploration than we could do. The late afternoon sunlight angling through the water meant that we could only just make out the sharks patrolling at the edge of the reef tempting us out deeper to what looked like quite a depth. Large angelfish and sweetlips flitted around us and schools of rainbow runners zipped past. Around the boulders in the shallow areas parrotfish and butterfly fish were present in big numbers. This was definitely one of the fishiest sites of the trip so far.
We awoke on day 13 moored up just off Biangabang Village on Pantar Island, Alor. Steam was rising from the hot springs by the shore. It was market day so the village was full of life. Our first dive of the day was on a site called the Twilight Zone, a critter site where we saw snake eels, mantis shrimps and a Pegasus sea moth. It was such a good dive that we did it again after breakfast. Somehow, during our surface interval, the water temperature had dropped 3 degrees to 24 degrees C which was a shock to the system but not an unusual occurrence in this part of Indonesia. A mimic octopus was the highlight of the second dive. All the local children joined us around the boat at lunch time to sing us a song, so we gave them some small whistles each, which I'm sure their parents and teachers wouldn't thank us for.
Dive 14 was on the point outside the bay. This was a beautiful reef with pristine coral and plenty of large grouper and wrasse. I found a nice yellow leaf fish sitting in some table coral and while I was photographing it I also spotted an ornate ghost pipefish whose camouflage almost worked. The night dive was back at the twilight zone where the highlight was 2 Spanish Dancers. I'd never seen a Spanish Dancer before so this was one of the best moments of the trip for me.
There were 2 morning dives on the last day but none in the afternoon as we had to think about our no diving before flying time. As we motored to Kupang I went to clean by dive equipment only to find that the crew had already done it for my. After 2 weeks of having my every need cared for onboard and my hardest decision being whether to wear my hood or not, I began to think about the real world again. The Adventure Komodo was about to start a new trip up to the Raja Ampat area but this was where our adventure ended. We all took a short flight from Kupang to Bali and from there we went our separate ways. As we waved goodbye to each other I knew that it wouldn't be long before I was back in Indonesia. Perhaps I'll do one of the Raja Ampat trips next time.
Article written by Paul Flaxman


---
CUSTOMER TESTIMONIALS OF DIVE THE WORLD
... The strength of Dive The World is, as usual, helping choose the boats everywhere with a wide variety of choice :) No weaknesses. ... -- Adrien Simard, France. [More customer reviews]