>
Dive Destinations
>
Maldives
>
Northern Atolls
Your Guide to The Northern Atolls
Maldives Diving Adventures
...Highlights: whale sharks, manta rays, schooling fish & big pelagics...
...Maldives Northern Atolls' diving environment: drift diving, caverns, advanced divers, off the beaten track...
While many divers and the majority of liveaboards in the Maldives seem to visit only the atolls of North Male, South Male and Ari, it is worth considering the atolls to the north.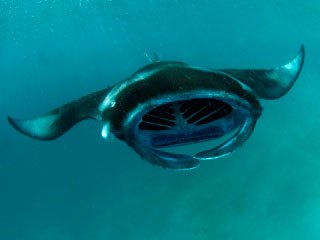 Having the entire sea to yourself and being the only dive group on any given site is a rarity further south, but it is one of the charms of exploring this region that includes the atolls of Baa, Raa, Lhaviyani and Noonu.
Coral coverage in this area is a little "hit-and-miss" with some areas being home to very healthy hard coral gardens and others featuring only average reef health. However, what seems quite consistent is the abundance and diversity of fish life in this area. Many sites exhibit astonishing biomass as well as an impressive variety of species.
Baa Atoll is known to be one of the better places in the Maldives for diving with manta rays. Sharks are not common in the north, however Noonu Atoll has a magnificent site for grey reef sharks. Otherwise you can expect many Thilas and Giris featuring overhangs, caves and swim-throughs, so the topography is as interesting as the marine life that swarms around it.
Dive Site Descriptions
As with many sites in the area, Dhonfanu Thila is a submerged pinnacle but it is for the numbers of fish that this site deserves special praise. Ever-changing topography, mantas and other big creatures in the blue, plus a dizzying quantity of reef fish in an enormous variety of species combine to make this a dive site to remember.
Baa Atoll is also home to Hanifaru Bay, a large bay on the eastern side of the atoll and a place where mantas visit in large numbers when plankton blooms during the southwest monsoon. Whale sharks are also present, feeding on the nutrient-rich salty soup.
You can expect wall dives and shark-infested channels at this north Maldivian Atoll. Large numbers of bannerfish and redtooth triggerfish are a common sight along the walls, and larger fish such as tuna, barracuda and eagle rays can often be seen in the blue.
Grey reef sharks in numbers of 20+, from inquisitive juveniles to imposing adults, swim in regular patterns over Orimas Thila cleaning station, occasionally responding in jerky movements to their cleaners. A beautiful and inspiring diving encounter with sharks in an area of the Maldives where they are rarely seen.
This is an area famed for its submerged pinnacles, Raa Atoll has an exceptional variety and volume of fish life. Wrasses, surgeonfish, butterflyfish, fusiliers and triggerfish are particularly evident when scuba diving here.
How to Dive the Northern Atolls
Diving in the Maldives' Northern Atolls promise a destination full of rich aquatic rewards for holiday makers without the feeling of being "one boat among many". While the dive sites further south may have several liveaboards around them at the same time, a visit to the Northern Atolls means having the sea to yourself.
At the time of writing there are only a small handful of liveaboards diving in this area that we recommend. They operate in and out of Male so there is no need to arrange a domestic seaplane flight to the region. For more information on the safari routes and all the other travel information you might need to visit Maldives, read our Maldives liveaboard section.
If you prefer to stay on land and have only a limited amount of time available, or if you want to learn scuba diving, we offer luxury resort diving packages in Raa Atoll.
The Maldives Northern Atolls Diving Season
Scuba diving in northern Maldives is possible all year round except for the month of June. Conditions are generally best during the Northeast Monsoon season from December to April, although September to November can produce great conditions too. Confirmed liveaboard departures run from July to May. For more information on the climate in Manadhoo, Northern Atolls, visit the Meteoblue

website.
The best time of the year for diving at Baa Atoll with manta rays and whale sharks is from August to November.
Water temperatures hover around the bathtub mark of 27 to 30°C, meaning that a shorty wetsuit is adequate for most scuba divers. Visibility is not season dependent and ranges between 10-30m. Currents vary but are usually manageable by all standards when diving within the atolls, rather than in the channels. Most of the dives are therefore within the atolls.

Where are the Northern Atolls and How Do I Get There?
Review our maps below of the Northern Atolls and their host country Maldives. Here, you will find information on how to get to the Maldives, and then on to the Northern Atolls.
Reef Summary
Depth: 5 - >40m
Visibility: 10 - 30m
Currents: Can be strong
Surface conditions: Calm but can be choppy in southwest monsoon
Water temperature: 27 - 30°C
Experience level: Beginner - intermediate
Number of dive sites: >50
Distance: 180 km north of Male
Recommended length of stay: 7 - 10 days
Useful References

---
CUSTOMER TESTIMONIALS OF DIVE THE WORLD
... The service I received was friendly, prompt and professional and I would definitely consider using your company again in the future ... -- Jenni Jones, Australia. [More customer reviews]