>
Dive Destinations
>
Egypt
>
Southern Red Sea
>
The Brothers
Southern Red Sea Diving
The Brother Islands
...Highlights: hammerhead sharks, shark action, schooling fish & big pelagics...
...Brothers' diving environment: healthy reefs, wrecks, wall dives, drift diving, advanced divers, very popular...
Egypt's offshore islands were declared natural protectorates in 1983, which granted them marine park status. Amongst these islands are the now legendary Brother Islands, or El Akhawein as they are called in Egyptian.
A popular Red Sea liveaboard dive destination, the Brothers are a pair of tiny islands situated about 5 minutes from each other. They are located 200 km south of Ras Mohammed and are basically steep-sided cones, likely formed by volcanic eruptions.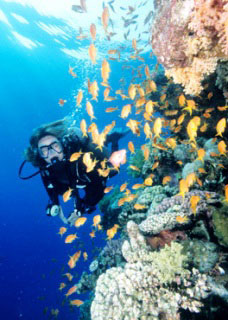 They are barely visible and easy to miss, save for the Victorian stone lighthouse, a legacy of British rule, which towers some 32 metres above Big Brother Island.
One of the most amazing scuba dives, not only in the Southern section but the whole of the Red Sea, the Brothers Islands are quite isolated and thus a delicacy to be savoured by the privileged few.
Little Brother Island is shaped like a rain drop, falling from the north west to south east. Deep walls surround the island on all sides except the northern point, where the reef slopes very slowly away from the island before dropping to a deep plateau at 40m. This plateau is one of the best places in the Red Sea for diving with sharks. Silvertips and grey reef sharks frequent the area and great hammerheads sometimes rise from the deep for a quick inspection before descending into the deep blue once again.
On the eastern and western walls, it's not about size but about quality. Surrounded by sheer walls covered with black corals, mammoth gorgonian fans with exceptionally dense hard and soft corals covering the spectrum of colours, it's easy to miss all the beauty as your view is obscured by schools of fish so plentiful that it often blocks out the light.
The current on both these walls tends to run from north to south, so you are likely to end a dive on either wall at the southern plateau. This is a wide ledge some 20m or more deep. Schools of barracuda often circle here, and dogtooth tuna and reef sharks are often prowling close by. Show more

Reef Summary: Wrecks and sharks
Depth: 5 - >40m
Visibility: 20 - 30m
Currents: Can be strong
Surface conditions: Can be rough
Water temperature: 23 - 30°C
Experience level: Intermediate - advanced
Number of dive sites: 7
Diving season: All year round
Distance: 125 km (6½ hrs) north of Marsa Alam, 150 km (8 hrs) south-east of Hurghada
Access: Liveaboard only

Useful References

---
CUSTOMER TESTIMONIALS
... Consistent great customer service, this includes prompt responses to questions and providing information ... -- Gek Me Lim, Australia. [More customer reviews]